2011 Tanaka Awards
1.Dubai Metro Viaduct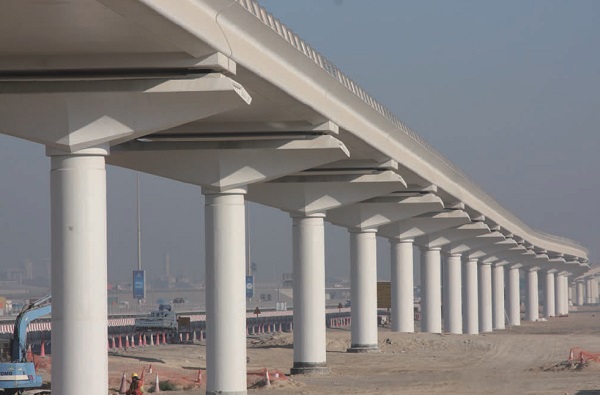 Road and Transport Authority, Dubai
Joint Venture of Obayashi Corp. , Kajima Corp. and Yapi Merkezi
State-of-art construction technologies of precast segment method which enable rapid construction have been employed for the Dubai Metro viaducts that stretch for over 61 km in the center of the Dubai city. The viaduct superstructure with curved surfaces has utilized a slender precast segmental post-tensioned concrete to ensure constructability and quality. One of the challenging issues was to try to achieve a 100-year life of concrete structure under sever environmental conditions in the gulf regions of the Middle East . Simultaneously the production of concrete  has been also successful in decreasing emission of CO2 by half.
2.Ikina Bridge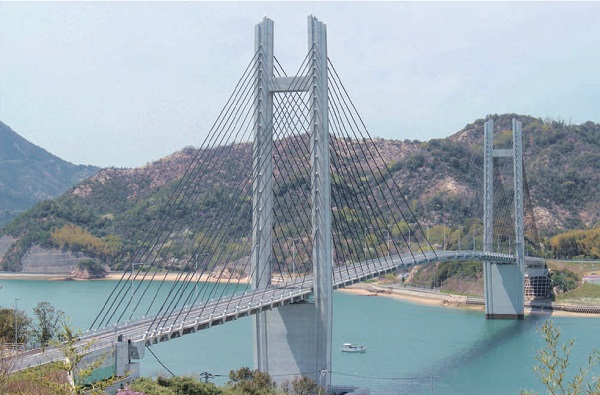 Ehime Prefecture,
Chodai CO.,LTD.,
Joint Venture of Sumitomo Mitsui construction CO.,LTD. and Showa Concrete Industry Co., Ltd.,
Gotou construction CO.,LTD. ,Ogawa contractor INC.
The Ikina bridge constructed between Ikina island and Sajima island as part of Kamijima bridge project.
The Ikina bridge is a 515m long composite cable stayed bridge with a main span of 315m long. This bridge is the third longest span of this type bridge in Japan. As a unique structure with a main span consisting of both steel girders and PC girders, the  bridge is the first structure in which stay cables are anchored at each girder. The tower is a RC structure and has a separated type anchorage system which effectively reduced costs.
In the construction of the bridge, durability and construction method were stressed, and it is expected to contribute to the development of future bridge technology greatly, for which Japan Society of Civil Engineers Tanaka award has been presented.
3.Third Agatsumagawa Bridge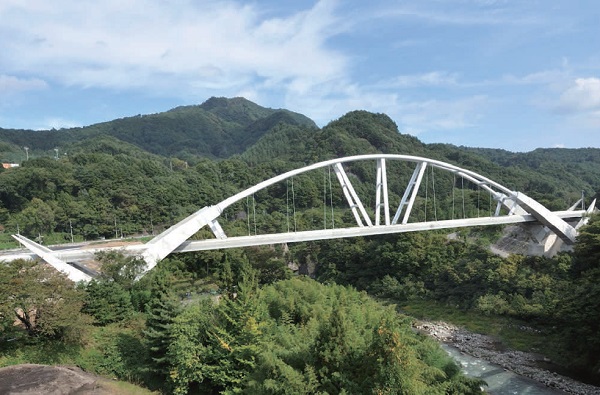 East Japan Railway Company, Joshinetsu Construction Office
JR East Consultants Company,
Joint Venture of Taisei Corp., Totetsu Kogyo Co.,LTD. and Sato Kogyo Co.,LTD. Kawada Industries, INC.
The Third Agatsumagawa Bridge is a 203 m-long three-span prestressed concrete continuous girder railway through bridge with a total span of 201.7m built with a basket-handle compound half-through arch construction. This bridge design was chosen to serve as a landmark of the region, as well as for its aesthetic balance with the Nielsen Lohse bridge on the adjacent national highway. The CFT structure was adopted for the construction of arch rib in order to ensure high rigidity and decrease its dead load. This bridge's steel and concrete compound arch structure enables the form that is rarely found even in Japan.
4.Hiroshima Airport Bridge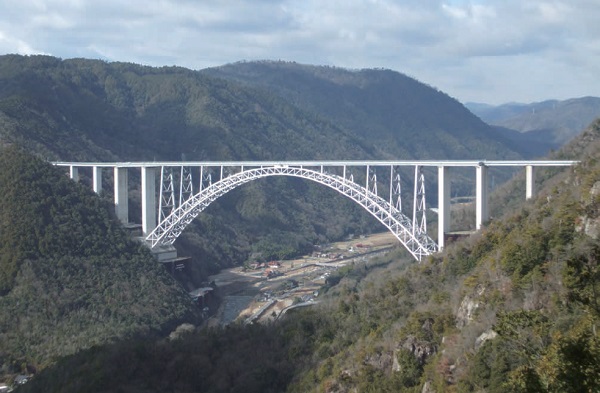 Hiroshima Prefecture
Japan Bridge & Structure Institute, Inc
Joint Venture of Kajima Corporation, Chizaki Corporation and Sanyou Construction Corporation.
Joint Venture of Shimizu Corporation, Kounoike Corporation and Kosei Construction Corporation.
Joint Venture of Mitsubishi Heavy Industries Bridge and Steel Structures Engineering Co., Ltd., IHI Corporation and Hitachi Zosen Corporation.
Yokogawa Bridge Corporation
Mitsubishi Heavy Industries Bridge and Steel Structures Engineering Co., Ltd.
Hiroshima  Airport Bridge is located in above the Nuta River, and this large-scale bridge spans total 800 meters long. It is comprised of two approach bridges over both banks of the river and the main bridge; the approach bridges are three continuous steel 2-box girder bridges, and the main bridge is a steel-braced rib arch. The Hiroshima Airport Bridge has become the longest arch bridge in Japan after the completion of work. Owing to an efficient scheme of execution planned to deal with severe site conditions and the possibility of third-party disasters, the arch deck bridge section was completed on schedule.
5.Tokyo Gate Bridge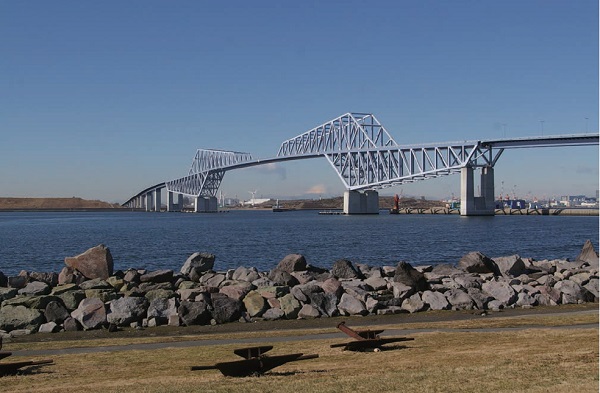 Kanto Regional Development Bureau, Ministry of Land, Infrastructure, Transport and Tourism 
Bureau of Port and Harbor,  Tokyo Metropolitan Government
Central Consultant Inc.
Chuo Fukken Consultants Co., Ltd.
Oriental Consultants Co., Ltd.
Pacific Consultants Co., Ltd.
Nippon Koei Co., Ltd.
Yachiyo Engineering Co., Ltd.
Mitsui Consultants Co., Ltd.
Kawada Industries, Inc.
Miyaji Engineering Co., Ltd.
Mitsubishi Heavy Industries Bridge & Steel Structures Engineering Co., Ltd.
Hitachi Zosen Corporation
Mitsui Engineering & Shipbuilding Co., Ltd.
Tokyo Steel Rib & Bridge Construction  Co., Ltd
Hakodate Dock Co., Ltd.
Toa Corporation
Toyo Construction Co., Ltd.
Kumagai Gumi Co., Ltd.
Penta-Ocean Construction Co., Ltd.
Wakachiku Construction Co., Ltd.
Sumitomo Mitsui Construction Co., Ltd.
Kajima Corporation
Mirai Construction Co., Ltd.
Konoike Construction Co., Ltd.
Taisei Corporation
Nissan Rinkai Construction Co., Ltd.
Sato Kogyo Co., Ltd.
Obayashi Corporation
Dai Nippon Construction
Tekken Corporation
Hazama Corporation
Maeda Corporation
Toda Corporation
Aisawa Construction Co., Ltd.
Shimizu Corporation
Kabuki Construction
Takenaka Civil Engineering & Construction Co., Ltd.
Tokyo Kensetsu Co., Ltd.
Sankyou-Tanaka Co,. Ltd.
Sakata-Construction Co., Ltd.
Tokyo Gate Bridge  is constructed to strengthen the global competitiveness of Tokyo Port by facilitating traffic in the Tokyo Bay coastal area and increasing the efficiency of distribution by improving access  between hinterland  areas.
The Tokyo Gate Bridge is 2,618m long. The main bridge is a three-span continuous truss box compound bridge with 440m-long central span across  the Third Sea Route. This is the nation's largest continuous truss bridge. The approach bridge is four continuous steel box girder bridges with 64m-122.5m-long spans.
In the construction of the bridge, many technologies and construction methods were developed and high durability was achieved.