Yoshida Award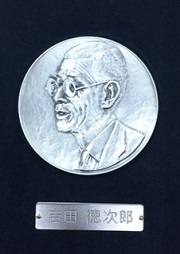 Yoshida Award was founded to honor the outstanding professional achievements and contributions of Dr. Tokujiro Yoshida to the establishment of concrete technology in Japan.  Dr. Tokujiro Yoshida Commemorative Foundation was established by about 300 friends, colleagues, and students of Dr. Yoshida under the leadership of Dr. Masatane Kokubu (Professor, The University of Tokyo) in 1960, and raised over 20 million Japanese yen in thousands individuals, groups and family gifts. This award is generally supported by the Foundation.
The Yoshida Award is conferred on those who have made remarkable accomplishments and outstanding contributions to the advancement of concrete engineering, either in research, planning, design, construction, these accomplishments and contributions being made in the form of a paper and other written presentations or through practice.  In addition, Yoshida Award has a research grant for young civil engineers to encourage them to develop their creative and innovative thinking skills and to pursue research interests in concrete engineering.
The award is made in two categories:
Outstanding Research Achievement: the award is made to recognize outstanding achievements and contributions to the advancement of concrete engineering in research.
Best Research Paper: the award is made to recognize the author, or authors of a paper: or research report, published in a JSCE journal/ magazine which contains the most valuable contribution to the development of concrete engineering.