2008 Tanaka Awards
1. Toyoshima Bridge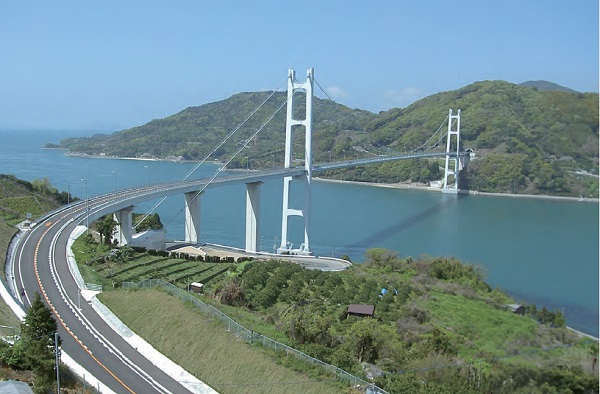 Hiroshima Prefecture, Hiroshima Prefectural Road Corp., CHODAI Co., Ltd., Wesco Co., Ltd., FUKKEN Co., Ltd., Mitsubishi Heavy Industries Bridge & Steel Structures Engineering Co., Ltd.,
IHI Corp., JFE Engineering Corp., Nippon Steel Engineering Co., Ltd., SHINKO WIRE Co., Ltd., MIYAJI IRON WORKS Co., Ltd.,
Yokogawa Bridge Corp., OKUMURA Corp., HIRAMOTO Corp.,
TOYO CONSTRUCTION Co., Ltd., DAIDO Corp., KAJIMA Corp., OKAMOTO-GUMI Co., Ltd.
Akinada Islands Bridges Project is a project to connect islands with eight bridges. The islands are located in the Inland Sea in the southern part of Hiroshima Prefecture. Toyoshima Bridge is a single-span suspension bridge of 903 m long and the third of the eight bridges from Honshu.
In this project, new technologies were developed to reduce construction cost: adoption of the rock anchorage method, adoption of 7-mm-diameter wire for suspension bridge cables and large-block erection method for main towers. Also for effective bridge maintenance and management, a dehumidification system for main towers, stiffening girders and suspension bridge cables were constructed, and adoption of site welding to outside connections of construction blocks of stiffening girders was made to supplement the dehumidification system.
2.Sannai Maruyama Bridge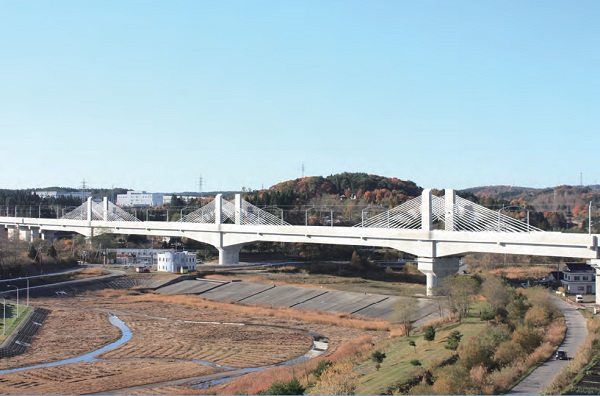 Japan Railway Construction, Transport and Technology Agency, Tohoku Shinkansen Construction Bureau, Chiyoda Engineering Consultants Co., Ltd.,
Zenitaka Corp., Asanuma Corp., and Shida Construction Co., Ltd.
Sannai Maruyama Bridge is a concrete extradosed bridge built on Tohoku Shinkansen Line. The main span of the bridge is 150 m long, which is the longest span of railway bridges in Japan. Even though the bridge has long spans, the deflection of girder is controlled within a very limited range by applying several new technologies in order to enable high speed crossing of Shinkansen trains.
Seasonal temperature effects are eliminated by adopting sliding support system. The influence of temperature change of stay cables is minimized by limiting pylon height. Further the temperature change of the cables is reduced by encasing them into thick cement grouts. The deflection by train loads is also reduced by employing 2-line bearing system.
3.Yabegawa Bridge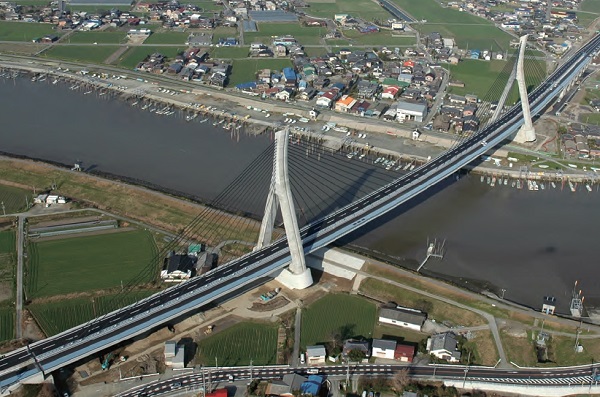 Kyushu Regional Development Bureau, Ministry of Land, Infrastructure, Transport and Tourism
CHODAI Co., Ltd.
Sumitomo Mitsui Construction Co., Ltd.
P.S. Mitsubishi Construction Co., Ltd.
SHIMIZU Corp.
KAWADA CONSTRUCTION Co., Ltd.
Tobishima Corp.
Nishimatsu Construction Co., Ltd
DAIHO Corp.
Seioh Construction Co., Ltd.
Kawaken Inc.
Yabegawa Bridge is a concrete cable-stayed bridge built as part of Ariake Coastal Highway. The central span of the bridge is 261 m long, which is the concrete cable-stayed bridge with the longest span in Japan. State-of-the-art bridge technologies were used in the construction of this bridge.
The 3-cell trapezoidal box girder makes the bridge superstructure lighter because the rational design of girder does not require diaphragms at the anchorages of stay cables. The horizontal component between the stay cables and the pylons is reduced by inclining the pylons corresponding to the horizontal curvature of the girder. A newly developed stopper is applied to secure the dump function of the rubber bearings. That stopper resists horizontal loads and absorbs and dissipates energy at large-scale earthquakes.
4.Tokyo International Airport International Airline District GSE Bridge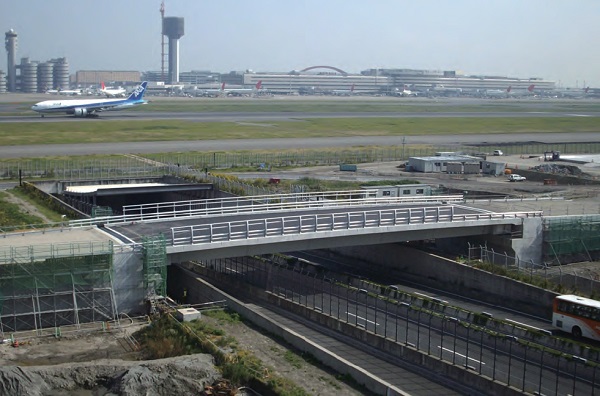 Tokyo International Airport Construction Office, Kanto Regional Development Bureau, Ministry of Land, Infrastructure, Transport and Tourism, Haneda International Airport Apron PFI K.K., TAISEI, KAJIMA, Penta-Ocean, Toa, KAJIMA ROAD, and Taisei Rotec Cross-Work Item Construction Joint Venture
Tokyo International Airport International Airline District GSE Bridge is a 48 m PC box ultra-high strength fiber reinforced concrete (UFC) girder bridge for ground support equipment (GSE) vehicles.
The use of UFC girder reduced the weights of the approach embankment and bridge superstructure and enabled the construction of a highly durable bridge with 1.86 m-long-girder, which was about 80 % of the one of conventional PC bridges.
In addition, twin perfobond rib shear connectors for girder-slab connections and the wet joints between UFC girders with large shear key for precast segment joints were developed based on full-scale model experiments.
5.New Metropolitan Bridge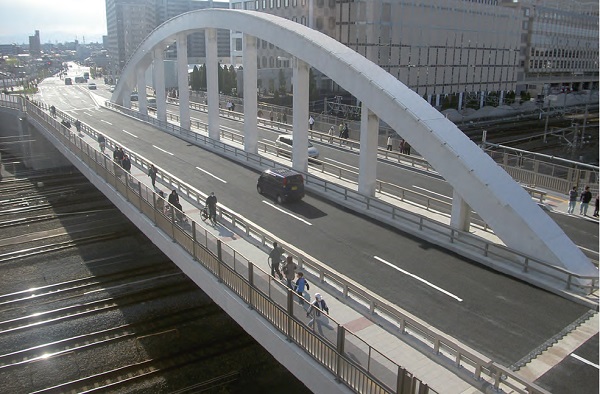 East Japan Railway Company Tokyo Construction Office
JR East Consultants Company
Maeda Corporation
Totetsu Kogyo Co., Ltd
The highway bridge New Metropolitan Bridge is a 73 m Lohse bridge with single rib crossing over eleven JR lines such as Keihin-Tohoku line and Tohoku line, which is located between Yono station and Saitama-Shintoshin station. This bridge is the first Lohse bridge with single rib across over railways constructed in Japan taking into account structural restrictions and the landscape of the area.
In the construction, pushing-out method was adopted in order to reduce works to be done above the railways: it was the first bridge constructed by this method in Japan. Detailed structural analyses in each pushing-out process and several tests with actual bridges were made; as a result, the construction of the bridge was safely completed without influences on train services.
 The bridge contributes to the development of the area providing a major highway and safe daily road.