2011 Outstanding Civil Engineering Achievement Award
[Group-1]
1. Slab Track Technology for Safety Operation and Low Maintenance -Successful Results of Development of the Slab Track Technology for Construction of New Shinkansen Lines -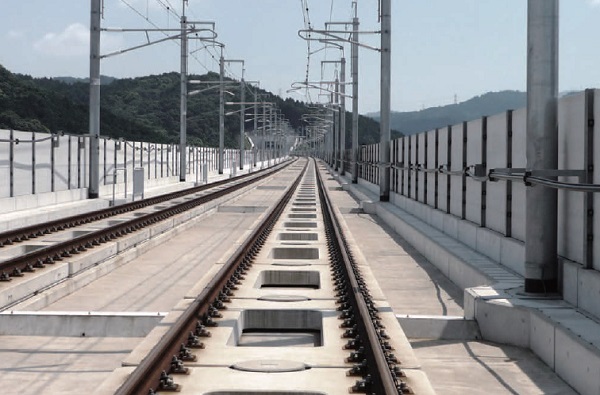 ・Japan Railway Construction, Transport and Technology Agency(JRTT)
・Railway Technical Research Institute(RTRI)
Slab track is an advanced track structure that supports safety operation and comfortable ride of high speed rail. Since the construction of new Shinkansen lines was started, several techniques have been developed and improved, including the frame type slab and a new CAM pouring method. Furthermore, the intervals between the rail fastenings devices were extended in order to reduce those devices. As a result, the cost was greatly reduced.
The slab track was also adopted for the Taiwanese and the Chinese high speed rails as an advanced technology, and its contribution to the development of a high speed rail has been highly appreciated.
2. Underground Constructions with Multi-Level Crossing in Urban Train Operation, Which Overcome Strict Construction Conditions -A Construction Project of Multi-Level Crossing near Chofu Station-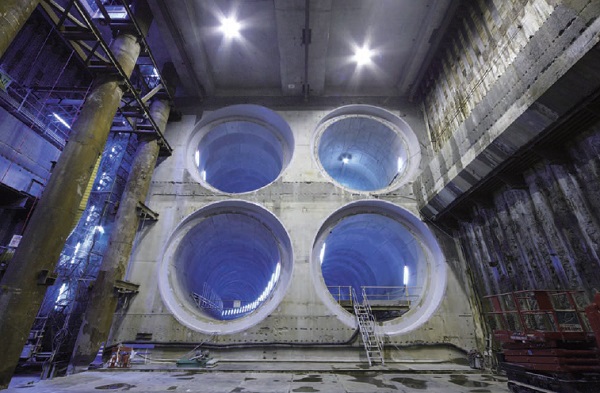 ・Tokyo Metropolitan Government
・Keio Corp.
・Taisei Corp.
・Obayashi-Keio-Maeda-Konoike JV
・Kajima-Keio-Toa-Hayashi JV
・Shimizu-Keio-Hazama  JV
・Tokyu Construction  Co., Ltd.
・Toda  Corp.
・Tokyo Metro  Co., Ltd.
・Pacific Consultants -Metro Development  JV
The construction project of multi-level crossing near Chofu Station by Tokyo Metropolitan Government and Keio Corporation consists of the subway tunnels and underground stations which are located in 2.8-km-long section between Shibazaki and Nishi-Chofu Stations on Keio Line and 0.9-km-long section between Chofu and Keio-Tamagawa Stations on Sagamihara Line respectively. The aim of this project is to solve traffic jams.
These constructions were conducted just beneath the railroad tracks during train operating hours. Various new technologies and construction methods have been introduced in the constructions for completing the project. Though the project involved many difficulties, those technologies have led to the successful completion of the underground structures after 7 years of work.
3. Modification of the Level of Viaducts in a Phased Construction Project-Jacking up of Viaducts on the JR Nambu Line between Inada-zutsumi Station and Fuchu-honmachi Station in the Continuous Grade Separation Project -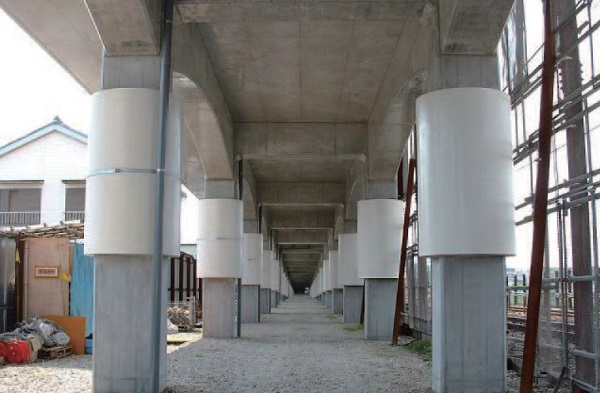 ・Tokyo Metropolitan Government
・East Japan Railway Company Tokyo Construction Office
・Tokyu Construction Co., Ltd.
・Daiho Corp.
・Japan Transportation Consultants, Inc.
Continuous grade separation on the JR Nambu Line between Inada-zutsumi station and Fuchu-honmachi station is being implemented by applying two-phase construction. At the border of Phase I and Phase II sections, the viaduct constructed in Phase I which had been connected with the track on the ground had to be modified when the Phase II was implemented to connect with the viaduct of Phase II section. In this project, JR East developed the new pier joint method which enabled to remove pier joints and easily modified the length of pier and gradient of the reinforced concrete viaduct after the completion of the construction by using jacks.
4. Design and Construction of the World's Largest Pneumatic Caisson Main Pump Construction of the Higashi Ogu Sewage Treatment Plant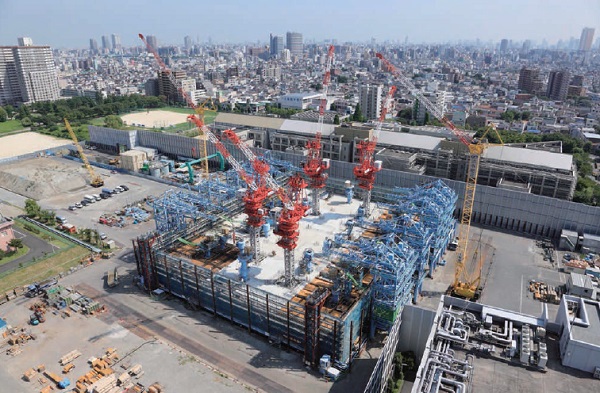 ・Bureau of Sewerage, Tokyo Metropolitan Government
・Shimizu Corporation
The Higashi Ogu Sewage Treatment Plant, located in Arakawa Ward, Tokyo, Japan is a facility designed to prevent eutrophication of the Tokyo Bay. 
The core Nishi-Nippori District main pump building has six stories below ground with a reinforced concrete structure. The underground structure was completed through the design and construction of the pneumatic caisson method and has the world's largest plane area (4,837 sq m). 
A carefully thought-out plan, which carried out using advanced technical know-how at each of the design and construction stages, successfully realized in terms of both economic efficiency and high-accuracy, a first-of-its-kind supersize pneumatic caisson. The completion of this project will contribute greatly to future projects of large-scale deep underground structures.
5. An Innovative Solution for Direct Connection Between TBM Tunnels and an Immersed Tunnel under the Bosphorus Strait. (Bosphorus Crossing Railway Tunnel)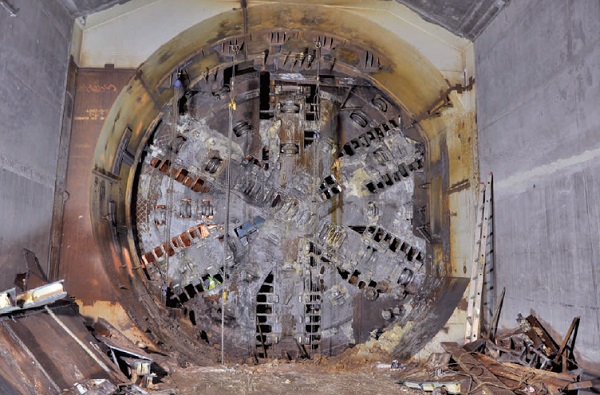 ・Taisei Corp.
There are two technical challenges in the Bosphorus Crossing Rail Tunnel project.One is to realize the world's first "direct connection" between TBM tunnels and an immersed tunnel underwater without any shaft in order to minimize both construction period and cost. The other is to secure perfect water tightness of joints between those tunnels against extremely high water pressure up to 0.6MPa.
Steel sleeve pipes were installed at both ends of the immersed tunnel to accommodate the incoming TBMs. Built-in water packing, which is provided on inner surface of the sleeve, successfully intercepted water ingress through a void between the sleeve and the TBM skin plate.
[Group-2]
1. 49-day Restoration of Damaged Tohoku Shinkansen Structures Caused by the Great East Japan Earthquake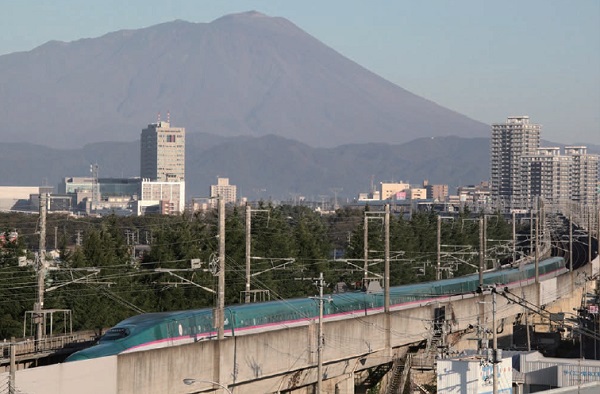 ・East Japan Railway Company
Resumption of Tohoku Shinkansen operation after 49 days was lauded as the first step of restoration.  It was also encouraging to the Tohoku area and all of Japan. Earthquakes caused damage to JR East structures over a length of about 500 km, causing the suspension of Shinkansen operations.  Although there was some damages to viaduct columns and electric poles, there was no fatal damage.  We believe this is a result of seismic rehabilitation of structures. Restoration techniques have been refined through adequate judgments and timely decision-making as to method of repair by JR East based on its past experiences and implemented emergency drills.  We believe these factors facilitated the 49-day restoration of the Shinkansen.
2. Takizawa Dam Construction Project-Rationalized Construction Work of Large Scale Gravity Dam and Creating Tourism Resource by Landscape Design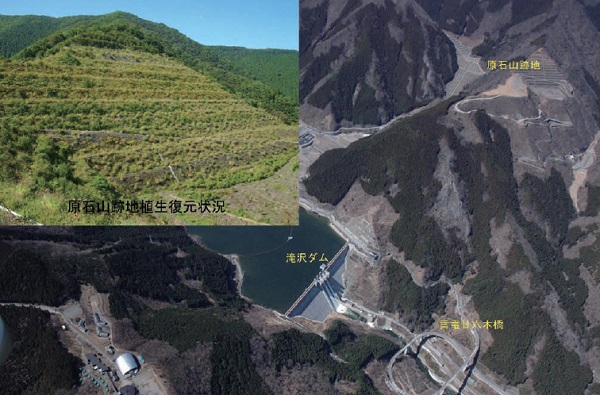 ・Japan Water Agency
Takizawa Dam is a concrete gravity dam with a height of 132 m which is located in Saitama Prefecture in Japan. Its total reservoir storage created is 56 million cubic meters.
During its construction period, a lot of new technologies and rationalization of construction works were evolved. Particularly the SP-TOM was developed as a massive concrete transportation system which can continuously convey concrete without material segregation.
Additionally, related facilities were carefully designed considering surrounded landscape since they are located in a national park. The loop bridge named Raiden-Todoroki-Bashi was constructed along a shifted national road. It was built immediately downstream of the dam and has become a new resource for tourism.
3. Opening of the Entire Route of Kyushu Shinkansen from Hakata to Kagoshima - Integrated Development of the Kyushu Region and Promotion of Cooperation and Communication with the Kansai and Eastern Asia Regions-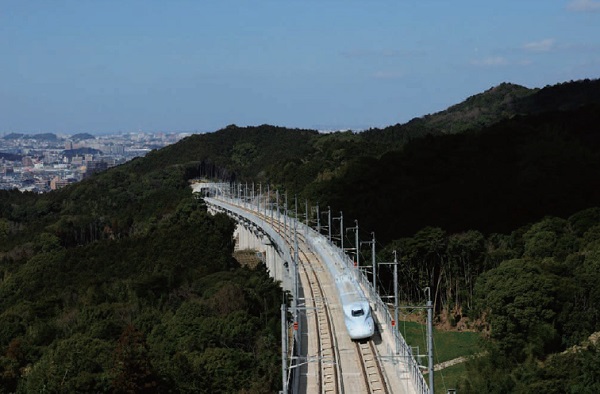 ・Japan Railway Construction, Transport and Technology Agency -  
・Railway Construction Headquarters–Kyushu Shinkansen Construction Bureau
・Kyushu Railway Co.
・West Japan Railway Co.
Kyushu Shinkansen is the 257 km high-speed railway between Fukuoka and Kagoshima and the main corridor in the Kyushu region.
 The completion of this line has realized the through service with Sanyo Shinkansen, and connected the Kyushu and Kansai regions directly. This shortens travel time between these areas drastically. Furthermore, it creates an international network between Japan and eastern Asia, and promotes inter-regional cooperation and communication.
In addition, advanced construction methods were developed, including a bridge rotating system for a viaduct over an existing railway in urban areas. These methods could be utilized for future civil work projects.  
 This project has been highly-appraised for its contribution to the development of local communities and civil engineering technology.
Outstanding Civil Engineering Achievement Award