IAC News
IAC News Extra.6, August 7,2014
Japan Society of Civil Engineers International Activities Center Aug. 7, 2014 IAC News Extra.6
◆Introduction
The Railway Bosphorus Tube Crossing, Tunnels and Stations (Marmaray Project) in Istanbul, Turkey was opened on October 29, 2013. The success of this challenging project, which was completed with the use of advanced technologies in a harsh natural environment, has been highly acclaimed in Turkey, in Japan, and throughout the world.
The JSCE International Activities Center has compiled this special issue as a means of sharing information about this project with our international members, associated academic societies, universities, research institutes, and alumni, with the added goal of helping students and young engineers to develop a greater appreciation of civil engineering. We hope you will enjoy reading it.
JSCE International Activities Center
Marmaray Project Linking Asia and Europe Across the Bosphorus Strait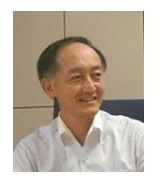 Takashi Imaishi
General Manager, Civil Engineering Department, International Operations Headquarters, Taisei Corporation
  Imaishi joined Taisei Corp. in 1981. His primary area of specialization is shield tunneling. His past projects have included the Tokyo Bay Aqua-Line (14 m diameter), Metropolitan Area Outer Underground Discharge Channel (12 m diameter), and Underground Regulating Reservoir (13 m diameter) of Kanda River on Ring Road No. 7 within Japan, and the Railway Bosphorus Tube Crossing, Tunnels and Stations Project (8 m diameter) internationally. Prior to assuming his current position in January 2014, he served as manager of the Civil Engineering Technology Development Department of the Taisei Technology Center.
 ◆Istanbul, a Cultural Gateway Between East and West
The city of Istanbul has a rich history of diverse ethnicities and cultures, from the ancient Greek, Roman, and Ottoman empires to the present-day Republic of Turkey. Istanbul surrounds the Sea of Marmara, which is connected to the Black Sea in the north and the Mediterranean and Aegean Seas in the south, and it is also a hub of land transportation. Istanbul is truly a cultural gateway between the East and the West.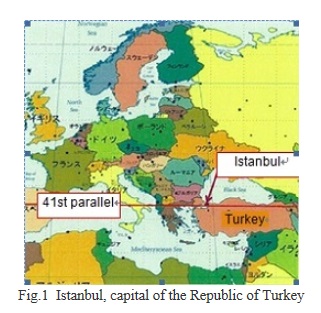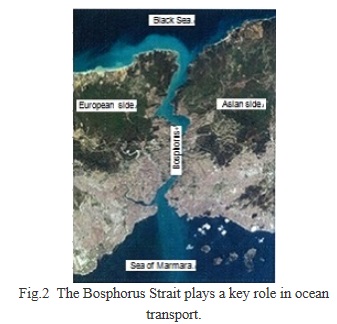 ◆Turkey's 150-Year Dream of Linking Europe and Asia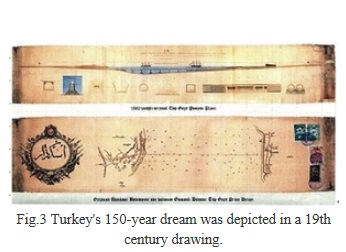 Istanbul, Turkey's largest city with a population of over 15 million, is divided by the Bosphorus Strait. With only two east-west bridges connecting the city's European side and its Asian side, this resulted in chronic congestion with increased air pollution. To relieve these problems, construction work on a subway tunnel under the strait was begun in 2004 under an EPC (Engineering, Procurement, and Construction) turnkey contract with Japanese financial backing. This concept was imagined 150 years ago in Turkey, as illustrated by an engineer's design drawing from 1860.
◆Two World Firsts in This Technically Challenging Project
The project consisted of a 13.6 km rail tunnel with a crossing of about 1.4 km under the Bosphorus Strait, along with the rail line, four station buildings, and equipment. To build the undersea tunnel portion under the difficult environmental conditions of a strait with fast and complex tidal currents, a tide prediction system informed by weather forecast data was developed, and the undersea portion was completed by the immersed tunnel method at 60 meters, the greatest depth for use of this method anywhere in the world. Meanwhile, the methods of shield tunneling and NATM (New Austrian Tunneling Method) were used in combination for construction of the land portions of the tunnel, culminating in the world's first undersea direct connection between a shield tunnel and an immersed tunnel. The highly demanding technical challenges of this project were overcome using state-of-the-art tunnel construction technologies.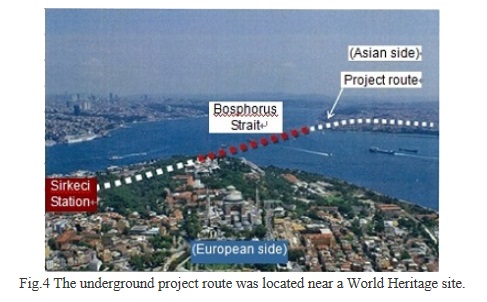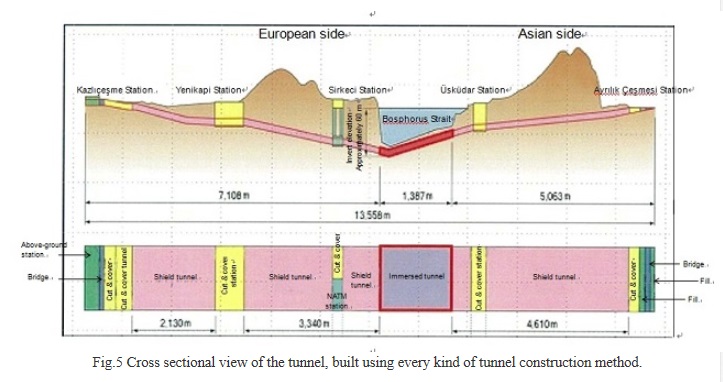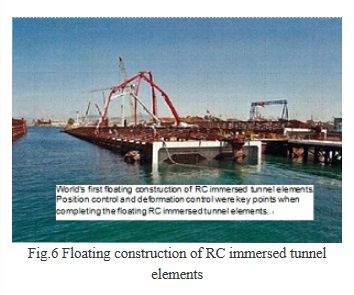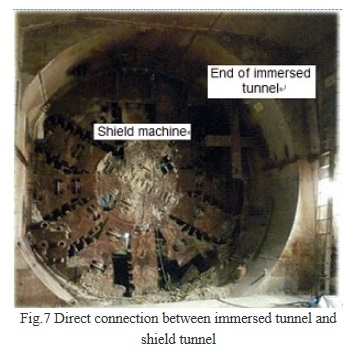 ◆Tunnel Opened on 90th Anniversary of Turkish Republic After Extensive Archaeological Investigations
In such a historical city as Istanbul, archaeological investigations for buried cultural artifacts can be quite time-consuming. The first train traveled through the tunnel nine years after work began in 2004, much later than initially anticipated, on October 29, 2013, the 90th anniversary of the Turkish Republic. Turkish Prime Minister Erdoğan invited Japanese Prime Minister Abe and the prime minister of Romania to participate in the opening ceremony, and many residents gathered in a park by Üsküdar Station on the Asian side for this grand inauguration. It was a day full of emotion for those of us who played a part in its construction. Sirkeci, the terminal station, was made famous by Murder on the Orient Express, a novel by Agatha Christie; and now that a new station has been completed under it, the route of the Orient Express, which started operating from Paris East 130 years ago, is connected across the strait. This memorable achievement will give rise to new narratives, in addition to improving convenience.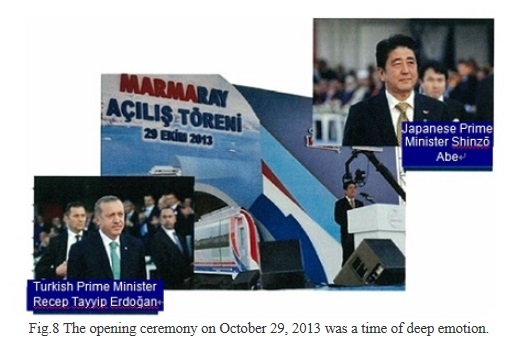 ◆Being a Professional Engineer
I recall my feelings of nervousness and anticipation when I traveled to Istanbul in 2005 to lead the shield construction portion of this project. I was stationed there until 2010, and although six years is a long time, it seemed to go by in a flash. This was my first overseas assignment after 24 years of experience with projects in Japan. Although I had six years of domestic experience as a project site manager, I had never served as a project manager outside Japan previously. I struggled every day to communicate in English amid the people, culture, and natural environment of an unfamiliar setting. This was the company's first project in Turkey and first EPC contract for civil engineering construction (FIDIC Silver Book), as well as Turkey's first immersed tunnel and first use of slurry shield tunneling. With so many firsts, the project involved one difficulty after another and turned out to be much more challenging than I could have imagined. However, by working in that environment, I truly sensed how much this project meant to the people of Turkey. I gained a renewed awareness of the fact that while civil engineering projects involve a great deal of hard work, they are also very important to people. I would like to encourage all the young people who want to work overseas to keep developing the courage and tenacity that they will need in order to step out into new fields as professionals.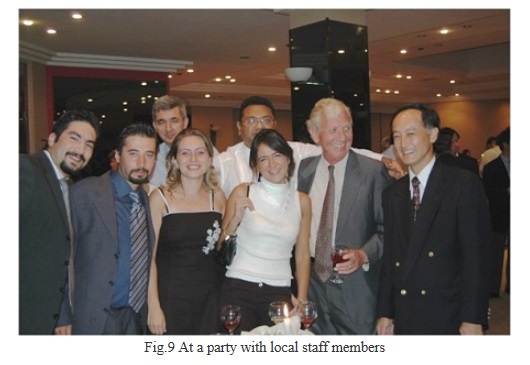 ◆Postscript
The subject of this special issue, the railway construction project across the Bosphorus Strait, was also covered in the first symposium in a series organized by JSCE on international work by civil engineers, held on April 3, 2014. The response was even better than anticipated, indicating that the level of interest in Japan is on the rise again.
The JSCE International Activities Center will continue to make information widely available by holding symposiums and issuing the IAC News.