IAC News
IAC News No.4,Oct.31,2012
Japan Society of Civil Engineers International Activities Center October 31, 2012 IAC News No.4
---
ACECC Selected Dr. Kenichi Horikoshi as Secretary General & Continuous Secretariat in Japan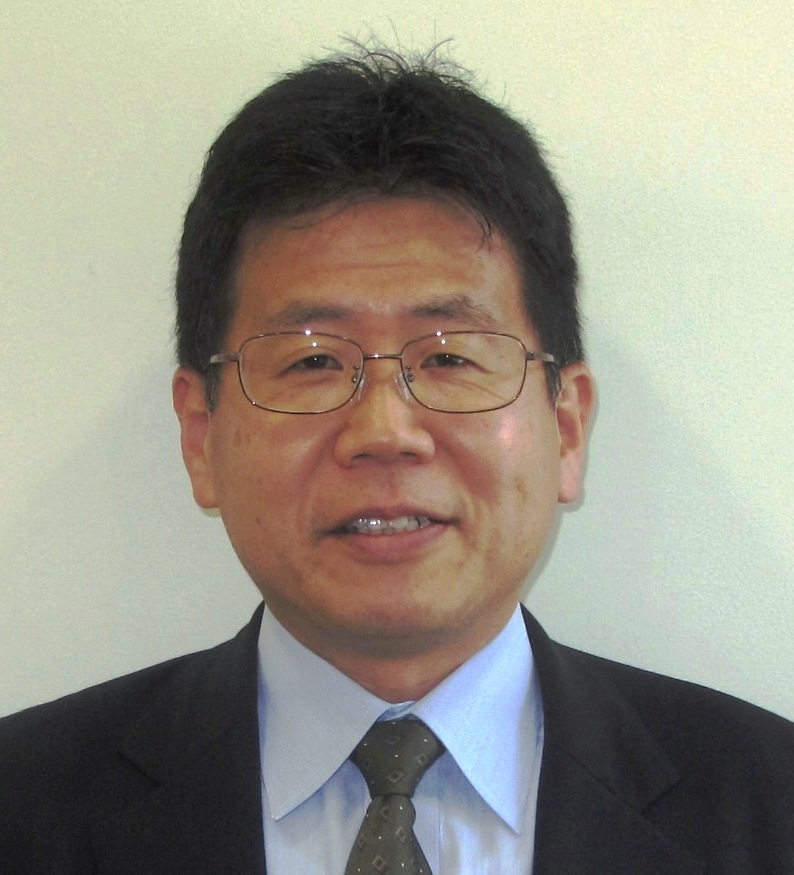 Dr. Kenichi Horikoshi the chairperson of JSCE ACECC Committee was elected the next Secretary General of Asian Civil Engineering Coordinating Council during the 23rd Executive Council Meeting held in Manila on September 22, 2012.
Dr. Horikoshi will begin his tenure right after the 6th Civil Engineering Conference in the Asian Region (CECAR 6) to be held in August 2013.  With his inauguration, the ACECC Continuous the Secretariat office will be placed in the JSCE HQ.
He, while running the secretariat as the Secretary General, will continue to work as a leading member of the ACECC. We are expecting him to take an active leadership in upgrading the activity, making the ACECC more attractive, more effective, and enhancing its contribution to a infrastructure development in the Asian region.
JSCE will give him full support and assistance so as to help him fulfill his responsibility, pursue his vision and achieve the ACECC's mission.
<What is ACECC?>
The initial concept of ACECC was formed by JSCE, American Societies of Civil Engineers, Philippines Institute of Civil Engineers, and then founded on September 28, 1999 in the cooperation of the above 3 societies, Chinese Institute of Civil and Hydraulic Engineers and Korean Society of Civil Engineers. Current members are 10: the above 5 organizations plus Engineers Australia, Indonesian Society of Civil and Structural Engineers, Institution of Civil Engineers, India, Mongolian Association of Civil Engineers and Vietnam Federation of Civil Engineering Associations.
Some of the objectives are:
1. To promote and advance the science and practice of civil engineering and related professions for sustainable development in the Asian region
2. To encourage communication between persons in charge of scientific and technical responsibilities for any field of civil engineering
3. To improve, extend and enhance such activities as infrastructure construction and management, preservation of the precious environment and natural disaster prevention.
---
Professional Education and Education Program G: Report 1
<2012 International Construction Management Seminar Series, Part 1/5>
The 2012 International Construction Management Series, Part 1/5 was held at the JSCE HQ on August 23, 2012. There were 58 attendees. The second year of this series was planned to place a focus on the demands for the internationalization of civil engineering industry, the development of project management skills, and industry-focused management taking a step forward from conventional company-focused management in cooperation with Prof. Shunji Kusayanagi of Kochi University of Technology.
Every meeting in the series will consist of two parts: a lecture by Prof. Kusayanagi in the first part of the meeting, and lectures experts, or a panel discussion on a chosen issue in the latter part. Attendees will be asked to answer a questionnaire at every meeting, which will be useful for us to plan future meetings.
---
Professional Education and Education Program G, Report 2
<The 14th International Summer Symposium>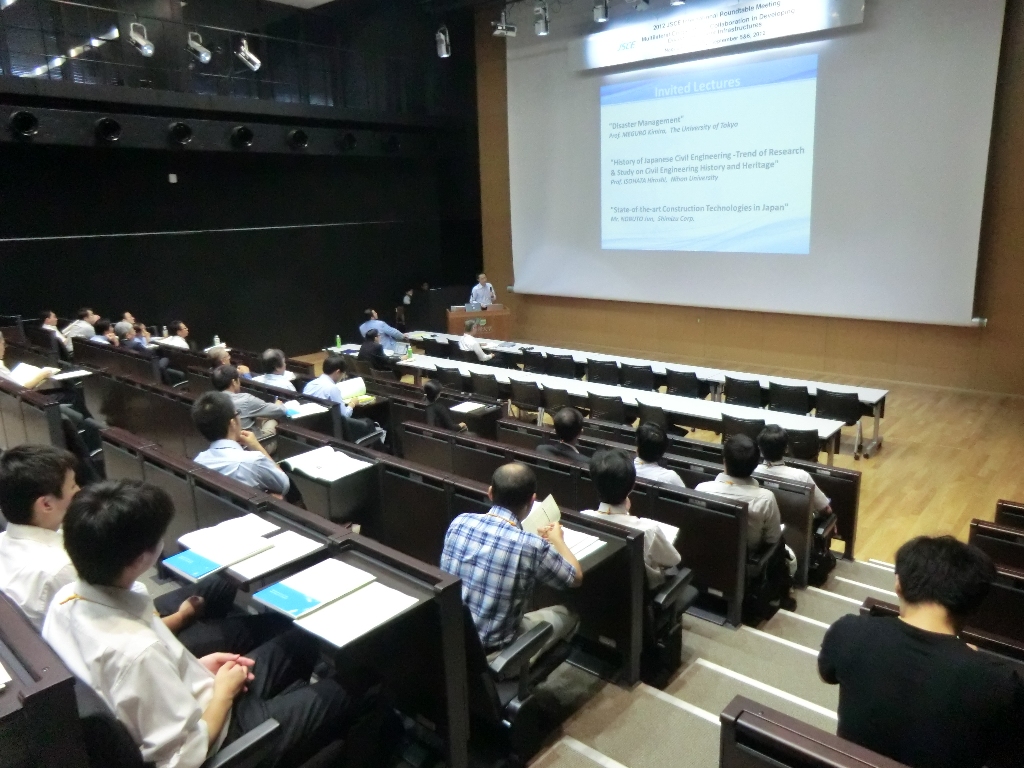 International Summer Symposium is held as one of the international activities of JSCE, and its objectives are to provide international students and young engineers working in Japan with an opportunity to introduce their research projects in English and to encourage them to network with each other. Since the first symposium held in 1999, the Symposium has been held as an independent event, being supported with the JSCE International Scientific Exchange Fund.
This year the 14th International Summer Symposium was held as one international session of the JSCE Annual Meeting, which was the first experience for us, at Nagoya University Higashiyama Campus on Sept 5 and 6. 
On the 1st day, Prof. Kohei Nagai (The Univ. of Tokyo), the Int'l Student Network Group Leader led the opening ceremony. Prof. Tamon Ueda (Hokkaido Univ), the IAC Senior Director delivered opening remarks, followed by three expert lectures:
1) "Disaster Management" by Prof. Kimiro Meguro, the University of Tokyo
2)  "History of Japanese Civil Engineering -Trend of Research & Study on Civil Engineering History and Heritage" by Prof. Hiroshi Isohata, Nihon University, Vice-Chair of Committee on Historical Studies in Civil Engineering, JSCE
3)  "State-of-the-art Construction Technologies in Japan" by Mr. Jun Nobuto, Shimizu Corp. / Construction Technology Research Committee, JSCE
During two days, total ninety four papers were presented: ninety papers were submitted to be presented in the international session and four were done by international students studying in International Centre for Water Hazard and Risk Management under the auspices of UNESCO (ICHARM). There were a good number of audiences, and active exchanges of ideas and views were made in any session.
On the evening of the first day, the symposium participants joined the delegations of JSCE's Agreement of Cooperation (AOC) societies and government officials at the welcome reception. It should be interesting and useful for those participants to expand their network of friends, peers and colleagues to get introduction to other people.
On the second day, a technical tour which visited Ozone Rainwater Treatment Facility was carried out in cooperation with the IAC International Program.
Considering many positive responses we received for the symposium, we would like to hold another Symposium in the similar next year
---
Professional Education and Education Program G, Report 3
<Study Tour Grant 2012>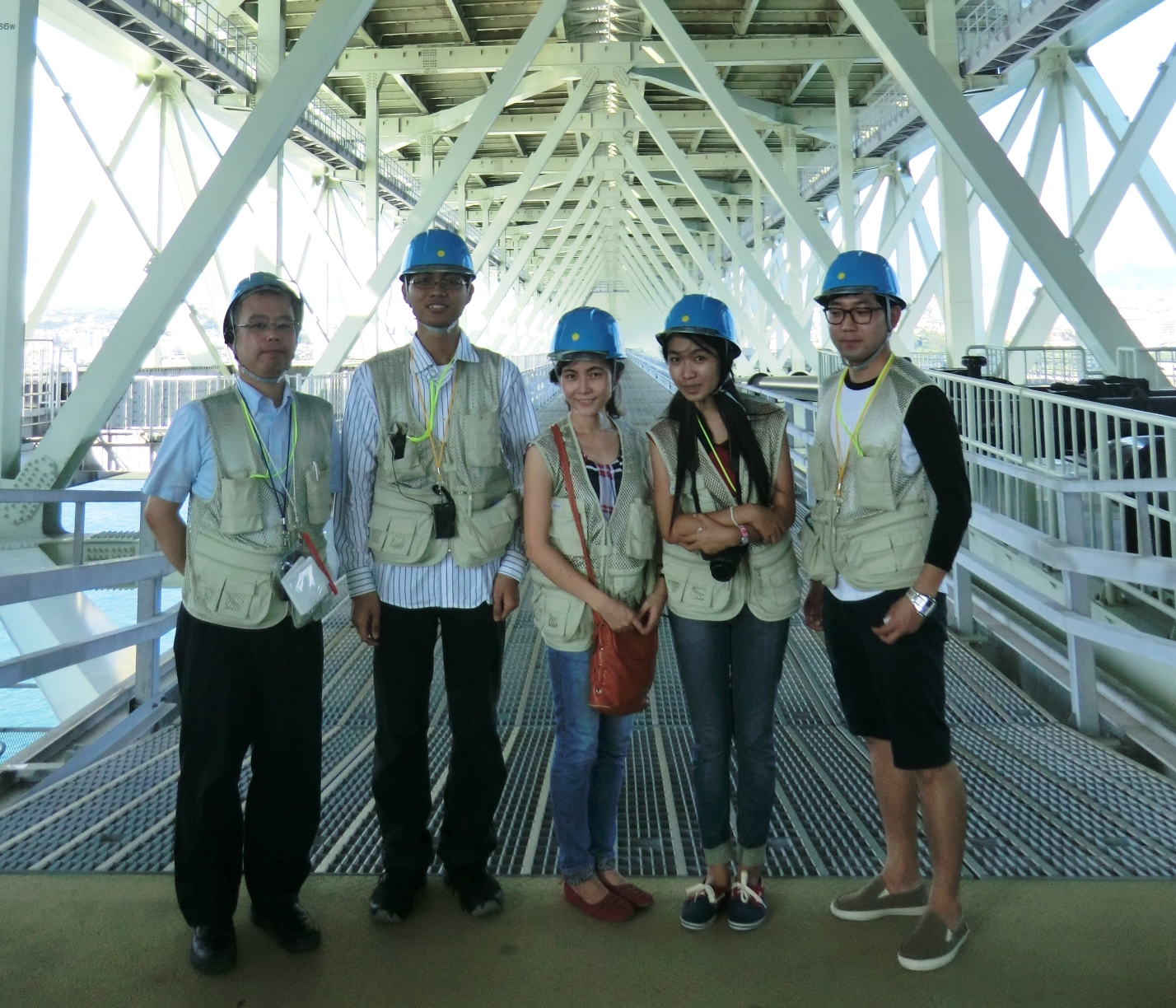 JSCE invites the young civil engineers who are nominated by JSCE's Agreement of Cooperation (AOC) societies to participate in the Study Tour Grant (STG) program funded by International Scientific Exchange Fund Committee every year.
This year four young engineers were participated in the STG program for ten days on Sept 3-12: Mr. Kim, Eui Sung (Korea), Mr. Agung Rizky Fajri (Indonesia), Ms. Siriporn Thongjaen (Thailand) and Ms. Huong Trinh Thuy (Vietnam)
They began their STG program by participating in the JSCE Annual Meeting in Nagoya (International Program, an international session and the 14th International Summer
Symposium and welcome reception). In this meeting they had chance to meet the symposium participants, the AOC delegations and other international guests. After the annual meeting, they left Nagoya to visit Disaster Reduction and Human Renovation Institution and Akashi Kaikyo Bridge in Kobe, and Public Works Research Institute in Tsukuba and learned about the latest infrastructure development. On their trips, they saw various buildings; they seemed be impressed by Tokyo Sky Tree and numerous skyscrapers in urban areas and the sophisticated civil engineering program and facilities of Nagoya University.  
In the weekend when they were off, they went out to see the areas and buildings which interested their civil - engineering minds. They fully enjoyed their time in Japan. Their experiences gained on the STG program will be able to broaden their horizons, and come to play an important role in improving the relationship between JSCE/ JSCE Int'l Sections and AOC societies. 
---
What's Happening
10/25 :International Construction Management Series 1/5 (http://committees.jsce.or.jp/kokusai/management2012)
10/26, 27:The 56th ECCE General Meeting in Croatia (http://www.dubrovniksun.hr/prijave/ecce/)
10/29, 30:ICE-JSCE International Symposium: "Reilient and Adaptive Society to Great Natrual Disaster: Infrastructure Development Considering Public Response" (http://www.jsce.or.jp/committee/ip/index.shtm)
11/22 :International Construction Management Series 2/5 (http://committees.jsce.or.jp/kokusai/management2012)
12/1 :Abstract submission deadline-2nd Int'l Balkans Conference on Challenges of Civil Engineering@ Epoka Univ. Tirana, Albania, May 23-25, 2013 (httep://bccce2013.epoka.edu.al)
---
Updates
ACECC 6th CECAR in Jakarta, Indonesia (August 20-22, 2013)http://committees.jsce.or.jp/acecc/6thcecar
Concrete Committee Newsletter No. 30http://www.jsce.or.jp/committee/concrete/e/newsletter/newsletter30/index.html
The JSCE magazine, mini-series "Can the construction industry become a Japan' s major export industry?" ("Civil Engineering," Vol. 93, No. 9, 2008)
---
President's Mumbling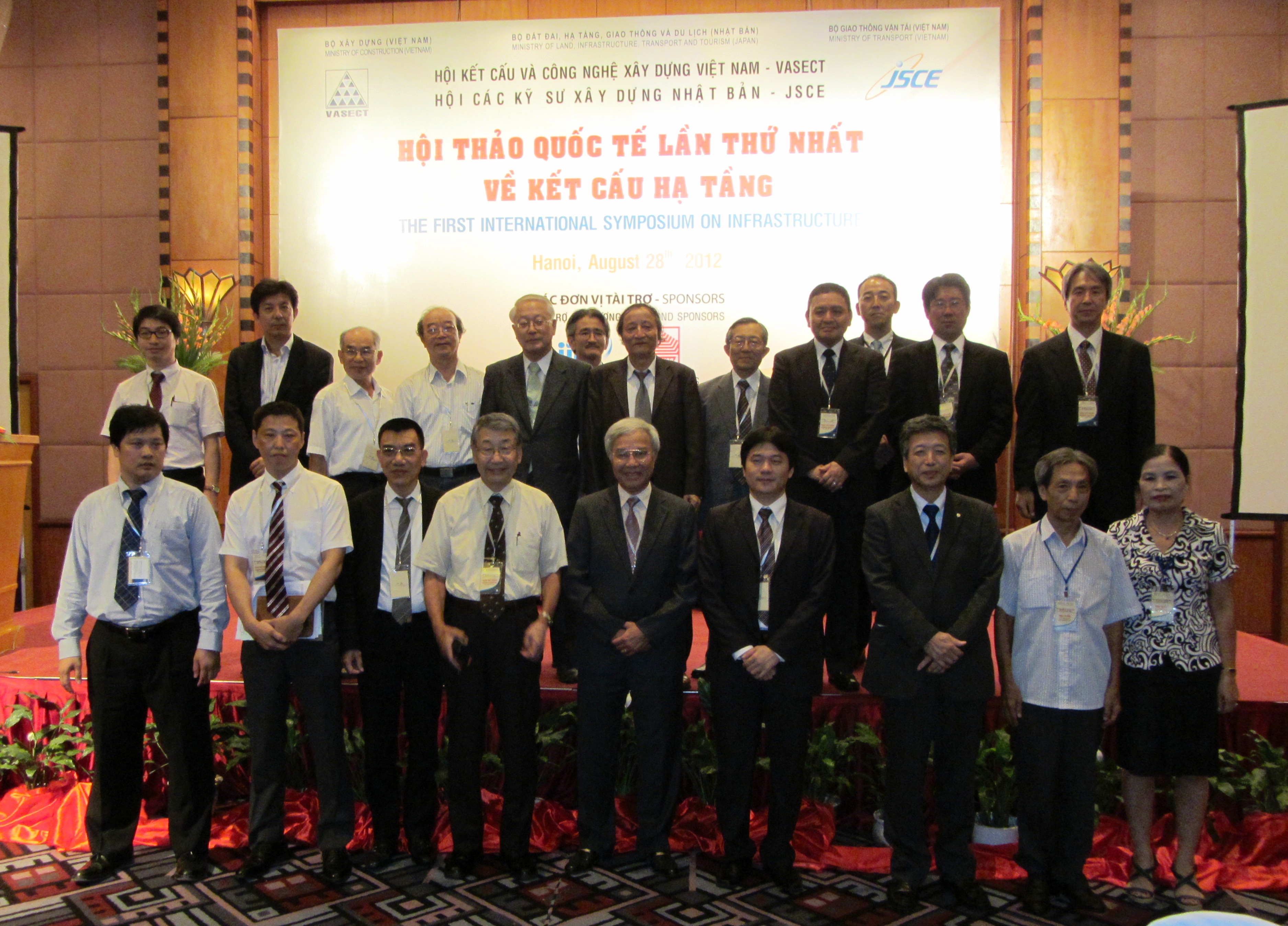 The 1st International Symposium on Infrastructure was held by the joint effort between Vietnam Association of Structural Engineering and Construction Technology (VASECT) and JSCE in Hanoi on August 28 and 29. There were about 170 attendees including Mr. Nguyen Thanh Nghi, the Deputy Minister of Construction, Vietnam. Seven sessions on the following themes were held:
 1. Advanced Technology for the Construction of Expressway: the case of Second Route between Tokyo and Nagoya
 2. Projects of the Institution of PPP in Vietnam
 3. The Experience of High-Speed Railway in Japan
 4. Damage to Transport Systems from the Great East Japan Earthquake and Recovery Measures
 5. Research to Using Ground Anchor Technology of Japanese JGS 4101-2000 into Vietnam
 6. Advanced Technology for Soft Ground Improvement in Japan
 7. Existing Concrete Bridges in Vietnam: an Analysis of Deterioration Modes and Their Main Causes
We examined issues and solutions from a variety of practical perspectives and gained useful and interesting ideas. After the sessions, we had a meeting with VFCEA members to discuss the future symposium which would focus on underground structures in urban areas.
The 1st symposiums co-organized by two organizations will create a future opportunity for Japanese civil engineers to work for the development of infrastructures in Vietnam.
---
Staff's Mumbling
It is time for me to breathe deeply. I have had big events in these couple of months. One of them is the ACECC ECM which was held in Manila in September. During the ECM, our member was elected as the next Secretary General. His appointment will begin in the next August and the secretariat office will be placed in JSCE at the same time. It will be our real test, and we have to roll up our sleeve. Now there is another busy spell ahead of us. There are some AOC societies' annual meetings until the end of year; we are forming delegations from Int'l Communication and Collaboration Group leaders, members and speakers to attend their annual meetings. Participating in their meetings is one of the activities to promote the communication with them, and in order to further develop that, it is vital for us to work together with all groups of the IAC. We are so grateful for your continuous. (HY)
---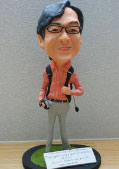 【Comments and Questions】 Please let us know of any comments, ideas and suggestions you have for improving this news. We look forward to hearing from you. JSCE IAC: iac-news@jsce.or.jp