IAC News
IAC News No.10, July 2013
Japan Society of Civil Engineers  International Activities Center July 19, 2013 IAC News No.10
【Greetings from the President】
This year is the second year since the International Activities Center (IAC) started up in April 2012. Under the supervision of the members of the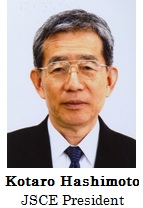 board of directors in charge of International Affairs Division, the IAC is working hand in hand with IAC International Strategy Committee. The IAC is made up of the IAC secretariat headed by Senior Director and Directors and 5 working groups-Information Networking Gr., International Cooperation and Collaboration (ICC) Gr., International Student Network Gr., Professional Education & Education Program Gr. and tasked-based Grs.  The ICC Gr. works with country-by-country groups such as Taiwan, Korea, Mongolia, Turkey, Indonesia, Thailand, Philippines, Viet Nam where JSCE has international sections, USA and Myanmar, and these groups' members are composed of industry, academic and government representatives 
The IAC focuses on the following activities:
・Establishing an effective information collection/ distribution system
・Building and utilizing a international student network to assist international students exchange
・Providing professional training and professional development opportunities to assist the members to improve their professional expertise and international competitiveness
In order to accomplish these activities, we need to build and maintain close cooperation and steady communication with the Ministry of Land, Infrastructure, Transport and Tourism, Japan International Cooperation Agency, universities and other educational institutions, the construction industry, the Japan Civil Engineering Consultants Association and other civil engineering-related organizations.
We also give attention to the interests and benefits of our counterparts overseas in building bilateral communication and cooperation so as to strengthen mutual trust and expanding mutually beneficial relationships.
The 6th ACECC Civil Engineering Conference in the Asian Region is held in Jakarta in August, and 2013 JSCE Annual Meeting in Chiba in the following month this year. During that annual meeting, we are having an international panel discussion on the theme "Infrastructure Maintenance and Renewal for Achieving a Sustainable Society," the 15th Summer International Symposium in which international students are discussing their current research projects and a new program "International Student Workshop."
We are looking forward to working with you in these meetings, and also appreciate your support and cooperation to our activities.
57th ECCE Report "European Council of Civil Engineers - the 57th General Meeting"
The 57th ECCE General Meeting was held on 30 May through 1 June 2013 at the Ordem dos Engenheiros premises in Lisbon, Portugal.  JSCE concluded the Agreement of Cooperation (AOC) with ECCE in 1999.  ECCE, established in 1985, is the united organization of Civil Engineering Associations in European countries to strengthen the supports to civil engineers' contribution to technological development and natural environmental protection in the region.
JSCE intended at this visit 1) to inform JSCE's activities, 2) to inform and invite ECCE to JSCE 100th Anniversary Events, and 3) to revise AOC between ECCE and JSCE.  Dr. Ono, Then JSCE President - now Adviser, and three other JSCE staffs participated in the Meeting.
Along the mission, Dr. Ono delivered a speech at opening the General Meeting and a presentation on JSCE activities and 100 year commemorative events in successively held ECCE Conference.  After that, ECCE-JSCE Meeting was held at the library of the venue.  From ECCE, nine directors including Mr. Fernando Branco – President, Mr. Wlodzimierz Szymczak - the next President, Mr. Gozard Humar – the former President were in the meeting.  Dr. Ono requested ECCE to participate in the said events including the international conferences and the commemorative ceremony scheduled in Tokyo next year.  After this meeting, a ceremony was held for a revised AOC to be signed among Mr. Branco, Mr. Szymczak and Dr. Ono to further promote exchange between two organizations.
ECCE General Meeting is an important venue for civil engineering associations in the region to get together to actively exchange information and opinions.  All representatives seemed to be trying to seek for a common vision on how ECCE stands and where it heads for in whole European society.  JSCE was the only participant from Asian region at the moment to have drawn much attention, however, will keep cooperating and exchanging with ECCE through participating conferences and events each other.
| | |
| --- | --- |
| | |
| Dr. Ono gives a speech at the podium | Dr. Ono and Mr. Branco ECCE President joined by ECCE Board members at an AOC signing |
【JSCE IAC Taiwan Group Presents Special Lecture】
Dr. Yang, Chiu-Hsing, Minister Without Portfolio, the Executive Yuan, Taiwan, R.O.C.: Leadership Roles of Civil Engineers in the Taiwan Government
Assoc. Prof. Masahiro Ouchi, Taiwan Group Leader (Kochi Institute of Technology)
A special lecture "Leadership Roles of Civil Engineers in the Taiwan Government" by Dr. Chiu-Hsing Yang, Minister Without Portfolio, the Executive Yuan, Taiwan R.O.C. was held at the JSCE HQ auditorium on June 10, 2013, hosted by JSCE IAC Taiwan Group.
Assoc. Prof. Masahiro Ouchi, the Taiwan Group Leader emceed and Assist. Prof. Wu-Te Ko JSCE Taiwan Section Secretary General provided translation between Taiwanese and Japanese to the audience of about 80 persons.
Dr. Takehiko Ono, JSCE President, currently Advisor gave a warm welcome to Dr. Yang, and then, he took the podium to deliver a speech for about one hour. Dr. Yang discussed Taiwan's public administration in the areas of industry, tourism, environment, and disaster recovery and reconstruction works based on his experience as Kaoshiung County commissioner. His discussion made the audience realize and appreciate civil engineer's unlimited role in the development of society, and the audience responded to the discussion by making several questions and comments for more than 70 minutes, longer than the speech. Those questions covered a wide range, including but not limited to civil engineering, such as flood disasters, the future of nuclear power, the improvement of retirement pension system, the operation of trunk railways except successful Taiwan Shinkansen, agriculture promotion programs, youth perspectives of civil engineering, and the public's attention to overseas construction projects by Taiwanese companies, which told how much interest the audience had in the Taiwan's public administration. Listening to Dr. Yang who gave right answers to any questions, the audience could have gotten a glimpse of the excellent knowledge he possessed as a civil engineer; meanwhile, must have noticed that in Japan we had gotten little news about Taiwan.
Unfortunately the audience was smaller than expected because, I'm afraid, I did not implement enough promotional activities to interest the JSCE members. I, learning from this experience, would like to develop effective promotional activities to attract attention to the events with the IAC, one of the efforts which makes is to raise the members' interest overseas.
| | |
| --- | --- |
| | |
| Assist. Prof. Wu-Te Ko, Dr. Yang, and Dr. Ono(left to right) | Dr. Yang delivers a speech |
 ◆2013 JSCE General Meeting : JSCE International Award (June 14,2013)
 2013 JSCE International Awardees are:
 ・Yuji OKAZAKI, President, Okazaki & Partners Inc. Vice President, Project Management Association of Japan(PMAJ)
 ・Tomotsuka TAKAYAMA, Director of Institute of Technology for Disaster Management, Coastal Development Institute of Technology 
 ・Shigemichi  HATAO, Chief Engineer Technical Auditing Office : NIPPON KOEI CO., LTD
 ・NGO THINH DUC, President of the Viet Nam Bridge and Road Association
JSCE Continuing International Contribution Award was presented to 15 members
http://www.jsce.or.jp/prize/prize_list/p2012.shtml (Japanese Only)
What's Happening
 ・Aug. 20-22:ACECC 6th CECAR in Jakarta, Indonesia
 http://committees.jsce.or.jp/acecc/6thcecar 
・ Sept. 4-6: 2013 JSCE Annual Meeting at Nihon University Tsudanuma Campus
・ Oct. 9-12 : ASCE 143rd Annual Civil Engineering Conference (Charlotte, N.C) :
 http://content.asce.org/conferences/asce-annual2013/
・ Oct. 23-25 : KSCE Annual Meeting at High 1 Resort, Gangwon-do
 
Updates
The summary of feature articles in the JSCE Magazine is available on the JSCE website.
http://www.jsce-int.org/pub/magazine
Concrete Committee International Newsletter No. 33
http://www.jsce.or.jp/committee/concrete/e/newsletter/newsletter32/index.htm
 
IAC News Subscription
The IAC News is one of the communication tools to share information and ideas with the members. We would like to invite you, your friends and colleagues to join the communication and to subscribe the IAC News. Please register online: (http://committees.jsce.or.jp/s_iad/iac_news_e). We look forward to meeting you.
Registration form for IAC News subscription:
・Japanese :(http://committees.jsce.or.jp/kokusai/node/31)
 ・English :(http://www.jsce-int.org/pub/registration/non-international_students)
 ・English for those who have studied/ graduated from Japanese colleges and universities : 
(http://committees.jsce.or.jp/kokusai/node/30)
 
Staff's Mumbling
Mr. Hashimoto contributes his views of IAC, who has come into the office since the JSCE General Meeting on June 14. We also publish a report on the ECCE's General Meeting in May and one on Dr. Yang, Chiu-Hsing's special lecture held in June. Thanks to the IAC members for their contributions of articles and comments. Their support and assistance are indispensable to us to continue this newsletter. Thanks a lot ! We appreciate any feedback to help us improve the IAC News.