ACECC Future Leaders Forum Monthly Webinar
ACECC Future Leaders Forum Monthly Webinar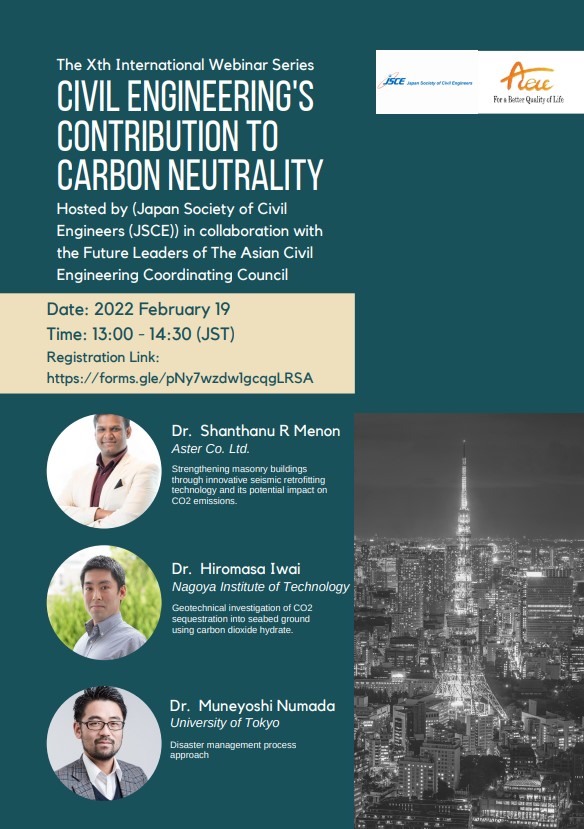 The international Webinars are a series of short International Webinars held monthly hosted by ACECC Future Leader Forum (FLF) .
The objectives of this webinars are:
・Create a Sustainable Future Leaders relationship
・Promote a diverse and inclusive culture for young civil engineers.
・Create avenues for the professional development and strong international technical collaboration among young civil engineers in ACECC member economies.
This FLF Monthly Webinar is hosted by FLF Committee and Committee on ACECC, JSCE, and the main topic is about Civil Engineering's Contribution to Carbon Neutrality.
Please feel free for applying this Webinar.
Updates:
(February 9)
・The deadline of registration has been extended to February 16 (Wed)5 p.m.JST(Tokyo) 
(February 14) 
・Title of presentation are updated.
---------------------------------------------------------------
Date&Time:February 19(Sat), 1:00 p.m. ~ 2:30 p.m. (JST)
Venue:Online(Zoom Meeting) 
Organizers:ACCEC FLF committee and Committee on ACECC, JSCE
Registration fee:Free
Language:English
Presenters:
■Hiromasa Iwai (Nagoya Institute of Technology)
Title: "Geotechnical investigation of CO2 sequestration into seabed ground using carbon dioxide hydrate"
■Shanthanu Rajasekharan   (Aster co. ltd.,)
Title: "Strengthening masonry buildings through innovative seismic retrofitting technology and its potential impact on CO2 emissions."
■Muneyoshi Numada    (Institute of Industrial Science, The University of Tokyo)
Title: "Disaster Management Process Approach"
Coordinator:Hiromasa Iwai (Nagoya Institute of Technology),Rajali Maharjah(Japan Transport and Tourism Research Institute) 
*The program will be frequently updated.
Please apply from the URL below.
⇒URL:https://forms.gle/pNy7wzdw1gcqgLRSA
*The deadline of registration is February 16(Wed)5p.m.JST(Tokyo)
*After registration, you will receive an e-mail with the URL (Zoom) of the webinar.
---------------------------------------------------------------
Contact:Shion Sugino (Japan Society of Civil Engineers International Activities Center(IAC))
TEL:E-mail:iad@jsce.or.jp
----------------------------------------------------------------------------------------------