JSCE Magazine Summary & Index
Latest Magazine
vol.105 No.9 September 2020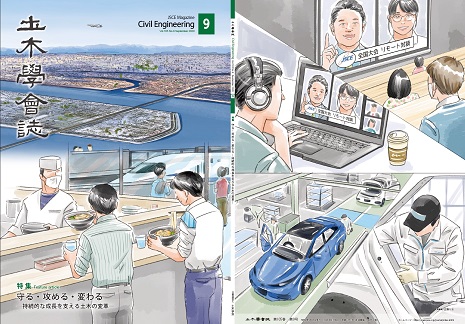 Conserve, Challenge, and Change
─Civil Engineering Revolution Supporting Sustainable Growth─
"Conserve, Challenge, and Change: Civil Engineering Revolution Supporting Sustainable Growth" is the theme for the Japan Society of Civil Engineers 2020 annual meeting, which will be held online on September 9–11, 2020. Based on this theme, the featured articles are aimed at introducing thought-provoking actions conducted in the central region of Japan (i.e., Chubu).
Chubu is a geographically widespread region and includes high mountains, plains, rivers, and coastal areas. The associated metropolitan area has been developed by incorporating the traffic infrastructure that interconnects the eastern, western, northern, and southern ends of Japan. Furthermore, the transportation network has supported various industries. In the near future, the linear Chuo Shinkansen will commence operating between Tokyo and Nagoya. Quick access between the two cities will form a "super mega region," which in turn will boost social and economic activities. However, apart from the development, Chubu has also faced several natural disasters such as the Nankai Trough earthquake, floods, and storm surges. 
The featured series of articles discusses both conventional and cutting-edge actions conducted for aiding future development and addressing recent issues such as calamities, climate change, and population decline. These perspectives are discussed through various topics, namely water resource management, infrastructure maintenance, reconstituting organization, technologies such as artificial intelligence and Internet of things, and the export of huge infrastructures.
---
≪Back Number≫