JSCE Magazine Summary & Index
Latest Magazine
vol.105 No.5 May 2020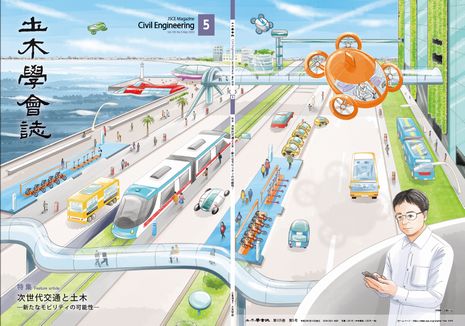 Next-generation transportation and civil engineering: the possibilities of new mobility
The evolution of new transportation that facilitates active interactions between people is critical for Japan to achieve sustainable economic growth.
This special issue focuses on the movement of people and introduces the future possibilities of transportation to support future sustainable development in Japan. The first half covers current initiatives and future developments related to mobility as a service (MaaS), which has the potential to become a major turning point in transportation infrastructure. In addition to describing the significance and appeal of MaaS, we introduce efforts implemented by the Ministry of Land, Infrastructure, Transport and Tourism and demonstration experiments on MaaS in various parts of the country. The second half discusses transportation hubs and the future possibilities of various transportation modes, the evolution of each being critical to the evolution of transportation more generally.
Our aim with this special feature is to provide readers with an understanding of the direction of next-generation transportation and to allow civil engineers to discover where and how they might demonstrate their potential.
---
≪Back Number≫