JSCE Magazine Summary & Index
Latest Magazine
vol.104 No.12 December 2019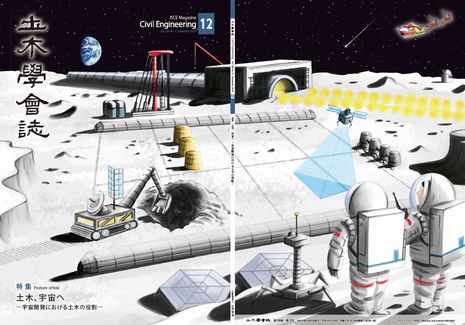 Civil engineering technology is flying in space:The role of civil engineering in space development
The focus of this special feature is on the role civil engineering will play in space development in the coming age of space exploration. In recent years, the environment surrounding space and civil engineering has changed dramatically due to technological advancements and the expansion of the space market. While taking this opportunity to recognize that the day is approaching when civil engineers will play important roles in space-related projects, we will try to establish challenges facing civil engineering in the context of space development.
This special feature will first look into the current state of space development, the space industry as a whole, and relevant legal developments before laying out what the future will demand of civil engineering. It will also showcase real-life examples and articles covering technological developments and initiatives related to space and civil engineering.
The goal is to convey the many opportunities in space-related civil engineering to as many civil engineers as possible and urge readers to consider new appealing aspects of the industry.
---
≪Back Number≫