JSCE Magazine Summary & Index
Latest Magazine
vol.103 No.10 October 2018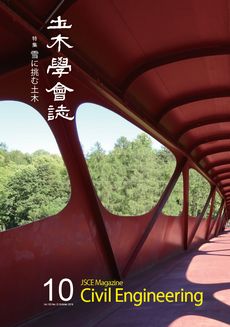 Civil engineering tackling snow and ice
A vast area of Japan—some 51% its land area—sees heavy snowfall. In the past, these areas experienced a large number of disasters related to heavy snowfalls, and measures were taken each time to prevent snow-related damage. Recently, in addition to snow-proofing measures aiming at snow-resistant regional development, there are a growing number of cases where snow is used effectively for the promotion of industries and regional revitalization.
At the same time, there have been an increasing number of record-setting heavy snowfalls in areas that normally see little snow as well as intensive snowfalls that are unusual even for snowy regions, resulting in disruptions in transportation infrastructure and residents' lives. Such instances will prove to be significant challenges in the future in Japan, which is witnessing changes in social conditions in the form of labor shortages and an aging population. Solutions are therefore needed.
In this special feature, we turn a spotlight on cases of civil engineering infrastructure tackling snow and ice, and compile case studies showcasing the effective and efficient removal of snow and ice as well as those focusing on the use and enjoyment of snow. In addition, the feature articles are interweaved with a roundtable discussion with researchers on how to handle heavy snowfalls in the future.
---
≪Index≫
(02) Presidential Message
KOBAYASHI Kiyoshi
(04) Feature article
Civil engineering tackling snow and ice
(06) Measures in heavy snow area
NAITO Hiroshi
(10) Automation of Winter Maintenance on Expressways using ICT─Integration of Satellite Positioning, Radio Communication, Sensor and Robot Technologies─
NAKATANI Ryo
(12) Introduction of the Hirosaki-style smart city concept for efficient snow countermeasure ─The most comfortable snow city Hirosaki in the world using rich resources─
HIGUCHI Hideyuki
(14) Regional cooperation of a snow removal activities ─From snow removal to regional development in Shinto village─
ONOZEKI Yoshimi
(16) Heavy-snow Countermeasure for Recently Constructed Shinkansen Lines
SUZAWA Hiroyuki
(18) Winter operation of New Chitose Airport ─Measures against heavy snow and environmental issues─
MORIKAWA Suehiro
(20) Challenges of Disaster Prevention due to Snowstorm on the Roads
HAGIWARA Toru
(22) Weather observation case study and Weather risk service in 2017-2018 snow season
YOSHINAGA Hajime
(24) In the snow country,Thinking of changing to bless the misfortune! It's to make use of snow
ITO Yoshiomi
(26) Burdensome drifting snow has become the main tourist attraction in winter season
KAKUTA Shu
(27) Snow removal work through the eyes of site workers
DEGUCHI Naooki
(28) The future shape of countermeasures against snow ─Aiming for the realization of a good society with technology development and regional cooperation─
The importance of human networking and the growth experience as a young civil engineer at a remote area
FUKUHARA Teruyuki, KAMIMURA Seiji, MATSUZAWA Masaru
(32) Further understanding of civil engineers and engineering who make an effort against heavy snowfall
(34) Admiration of Civil Engineering Heritages by JSCE:Civil Engineering Heritage Sites Section
Sumpu Okakoi Levee(Satsuma Dote)
NAKAMURA Shinichiro
(36) Let's go abroad
Contribution of Experience in Australia to Japanese Offshore Development ─Challenging of Offshore Geotechnical Engineering─
YAMAMOTO Nobutaka
(38) Alumni of DOBOKU ─The pages for people linked to Japan─
External Prestressing to Composite Materials and Structures ? Through Invaluable Japanese Experience!
ARAVINTHAN Thiru
(40) Report Experiment Facilities
Large Scale Fatigue Testing Machine
ONO Shuichi
(42) Numerical Analysis Seminar for Civil Engineer without a mathematical formula
On numerical inversion for exploration geophysics
MORIKAWA Hitoshi
(44) Let's try to learn great civil engineers
Daniel Bernoulli
KAWASAKI Koji
(46) My Bookshelf
SHIOI Yukitake
(47) The movement of my heart
MORIKAWA Takayuki
(48) Professional skills necessary for construction
(50) JSCE Member's Report
Technology class of junior high school to nurture an interest
in civil engineering technology
NUMATA Kazuya
(54) Messages from outside
KYORYUKUN
(56) Advisers' Column
(58) International Activities Center
(63) CE Careers
(66) JSCE Calendar
(68) Next Issues
─ Surprise box in Civil Engineering introduced
 
---
≪Back Number≫