JSCE Magazine Summary & Index
Latest Magazine
vol.102 No.6 June 2017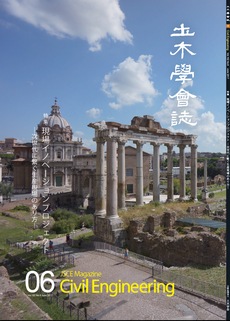 Empowering the Construction Site Team through Innovation
This special issue summarizes the activities of the JSCE special task force: "Empowering the Construction Site Team through Innovation."
Initiated in April of last year, this task force has involved participants from JSCE's relevant committees and public and private sector groups to discuss the following three themes: 1. Improving concrete construction productivity and safety. 2. Promoting the use of information and robotics technologies in construction projects. 3. Attracting people, young and old, male and female, to the infrastructure area, and bringing cross-disciplinary perspectives to the civil engineering industry.
These themes are thought to represent central challenges for our civil engineering community, and JSCE is in a unique position to call on civil engineers from business, government and academia to address them cooperatively. It is hoped that this special issue will help highlight the importance of issues of the construction site, both for now and in the future.
---
≪Index≫
(02) Admiration of Civil Engineering Heritages by JSCE : Civil Engineering Heritage Sites Section
Miyagawa River Bank -the design of accumulation woven by function and charm-
DEMURA Yoshifumi
(04) Feature article
Empowering the Construction Site Team through Innovation
(04) Foreword
TASHIRO Tamiharu
(06) Scenario of construction industry at 2050
Working Group 1, JSCE Presidential Task Force 2016
(08) Realizing an attractive future of civil engineering field and construction sites
ISHII Keiichi, TASHIRO Tamiharu, MAEKAWA Koichi, YAMADA Kumi
(14) Proposals for Improving Concrete Construction Productivity While Ensuring Quality
ISHIBASHI Tadayoshi
(16) Direction of effective use of Precast Concrete
Working Group 1, JSCE Presdential Task Force 2016
(20) Human Resource Development and Education for Supporting ICT in Construction
MAKANAE Koji, NOBUTO Jun
(24) Cutting-edge Technologies of ICT and Robots
-A Study of Future Prospects of the Construction Industry-
SADA Tatsunori, MORI Hiroaki
(28) Activities to attract the next generation of engineers to Civil Engineering industry
YAMADA Kumi
(30) To attract young people's interests to civil engineering through site visits : Development of the new system to provide information of construction site to schools
KOMATSU Atsushi
(32) Introduction of diversity in the civil engineering industry
YONEYAMA Ken
(36) To make people familiar with civil engineering through concrete
ISHIDA Tetsuya, KOMATSU Satoshi
(38) Next Actions of JSCE for Innovation at Construction Site
NAKAMURA Hikaru
(40) Let's go abroad
Report from a Young Engineer, Field Engineering at LNG Plant Construction Site
GOTO Hiroaki
(42) Alumni of DOBOKU ─The pages for people linked to Japan─
Study and research experiences in Japan and works after returning from Japan
Somnuk Tangtermsirikul
(44) Report Experiment Facilities
Test Apparatus for Frozen Soils
YOSHIDA Teru
(48) Numerical Analysis Seminar for Civil Engineer without a mathematical formula
Challenge in Traffic Analysis using Recent Sensing Data
KUWAHARA Masao
(50) Let's try to learn great civil engineers
Mr. Tadataka Inoh ; The honest person who makes the first survey of Japan
HOSHINO Yoshihisa
(52) My Bookshelf
KASUGA Akio
(53) JSCE Publications
(54) Focusing again on potential of infrastructures
(56) JSCE Member's Report
"Construction fair Shikoku 2016 in Kochi" holding which touches the latest construction technology
HATAKENAKA Hideto
Social gathering for students in national universities and national institutes of technology of Shikoku District, and companies in construction fields
YASUHARA Hideaki
(60) Messages from outside
Leonard ETO
(62) Civil Engineering Topics
Summer Seminars on "Japan's Infrastructure and Industry" for International students
IEDA Hitoshi
(66) Advisers' Column
(68) Pick and Choose Updates
(73) International Activities Center
(76) JSCE Update
(84) CE Careers
(88) JSCE Calendar
(90) Next Issues
---
≪Back Number≫