JSCE Magazine Summary & Index
Latest Magazine
vol.101 No.12 December 2016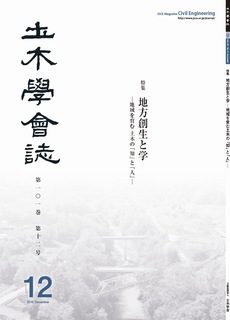 Feature article : Regional Revitalization and the Role of Academia - Knowledge and People of Civil Engineering for Building Local Communities -
The population of Japan entered a long-term period of decline after reaching its peak of 128.08 million in 2008. It is predicted that the young population (younger than 15) and the working age population (aged 15?64) will decrease and the elderly population (older than 64) will increase. In addition, the movement of the younger generation from local regions to the Tokyo metropolitan area will continue, and the uneven distribution of the population among regions will increase.
Due to these trends, local governments are engaging in regional revitalization efforts to develop attractive local communities with unique characteristics. In addition, academia, as the intellectual and cultural center of these local communities, is providing strong support for these efforts through the collaboration with local communities.
This special issue intends to promote efforts toward further regional revitalization by presenting existing examples of regional collaboration between local communities and the civil engineering departments of universities nationwide.
---
≪Index≫
(02) Message from the President
TASHIRO Tamiharu
(04) CIVIL ENGINEERING PORTRAIT
OMURA Takuya
(06) Feature article
Regional Revitalization and the Role of Academia -Knowledge and People of Civil Engineering for Building Local Communities-
(08) "Regional Revitalization and the Role of Academia" from University at Local Small City
NASU Mamoru, KOHATA Yukihiro
(12) Demand for Academia from Local Government on Regional Revitalization
INNAMI Hiroyuki
(14) A case study of community cooperation in regional government -Futagawa-shuku re-birth project collaborated with city, university and residents-
KIMURA Kunihisa
(16) Collaboration with "knowledge" and "people" between government, academia and private sectors toward the revitalization of public transportation -Progress of "Aya bus" in Ayabe city, Kyoto prefecture-
SAKAI Takahiro, TSUJIDO Fumiko
(18) Efforts Regional Cooperation in the Universities Shikoku Disaster Prevention and Crisis Management Special Education Program
SHIRAKI Wataru, NAKANO Susumu
(20) Efforts and Stance of Akita University to Regional Cooperation
MATSUTOMI Hideo
(22) Construction of Disaster Prevention System for local governments in Hitoyoshi City
MITANI Yasuhiro
(24) Unique continuing educational program for local civil engineers by local university -Training program of ME (Infrastructure Maintenance Expert)-
SAWADA Kazuhide
(26) Mission; Training local civil engineers for local infrastructure maintenance management -Challenge of iMec, NIT Maizuru college-
TAMADA Kazuya
(28) One action plan of local national university initiatives expected for regional revitalization -Yamaguchi University Research Institute for Future in Senzaki Area -
SHINJI Masato
(30) Future Prospects and the Efforts of Regional Cooperation in the Universities and the Private sector, etc.
SAWADA Toshiaki
(34) In order to promote "Regional Revitalization and the Role of Academia"
(38) Natural Disaster and Their Damages
Report on Flood Damage due to August 2016 Hokkaido Heavy Rain
NAKATSUGAWA Makoto
(40) Report on flood damages in Iwate prefecture by Typhoon No.10, 2016
OGASAWARA Toshinori
(42) Admiration of Civil Engineering Heritages by JSCE
Civil Engineering Heritage Sites Section Covered Slow Sand Filtration Pond in Asahikawa -Modern water-supply system built in Military City-
OKADA Masaaki
(44) Letter from Tohoku
Revitalization from disaster
TAKEMASA Isao
(48) Let's go abroad
Large-scale LNG project adopting modularization method- Report by a young engineer from Thai module yard-
INOUE Naotatsu
(50) Reliable Civil Engineer !
Knowing "warmness of civil engineers" through proofreading work of JSCE magazine civil engineering
ASAI Atsuko
(52) Report Experiment Facilities
Estimation for complex flow structure -Hydraulic model tests for evaluating effective hydraulic civil structures-
KAITSUKA Kazuhiko
(54) Civil Engineering Contents to share with your Family
Career Exploration for Thirteens
MATSUO Kazuhiro
(56) My Bookshelf
NISHIO Shinya
(57) JSCE Publications
(58) Power of Careers in Civil Engineering
NISHIMURA Hiroshi
(60) JSCE Member's Report
New town planning from Fukushima-Regional innovation in Shinchi-machi-
FUJITA Tsuyoshi, HIRANO Yujiro
(64) Over 1m of snowfall at one heavy snow event ! Heaviest snowfall in thirty years struck Chuetsu area of Niigata prefecture in January 2016.
KAMIISHI Isao, MOTOYOSHI Hiroki
(68) Messages from outside
TANAKA Yuko
(70) Advisers' Column
(72) International Activities Center
(74) JSCE Update
(85) JSCE Calendar
(104) Next Issues
---
≪Back Number≫