JSCE Magazine Summary & Index
Latest Magazine
vol.101 No.10 October 2016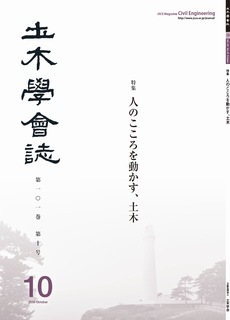 Feature article : How does Civil Engineering affect our minds ?
Civil engineering not only makes life more convenient and stimulates economic growth but also affects the attitude, motivation, and emotional state of people. We are often impressed by the scale of structures, the timeless presence of infrastructure, and how civil engineers express their ideals in physical form. A good example is the Shinkansen, which has raised public awareness and has become a national symbol in Japan, despite initial public disapproval. Infrastructure can enhance attractiveness of place and people's attachment to their place. Therefore, many recent civil engineering initiatives have used communication to try to modify people's attitude and behavior.
Nevertheless, the changes in the landscape and lifestyle caused by infrastructure may negatively affect public sentiment. Therefore, consideration of the influence of infrastructure on our minds could add real value to civil engineering works.
This special issue focuses on how past civil engineering works have affected our minds. The first article describes the theory of correlation between infrastructure and the human mind. The following articles introduce infrastructure projects, with focus directed toward their effects on the human mind.
---
≪Index≫
(02) Message from the President
TASHIRO Tamiharu
(04) CIVIL ENGINEERING PORTRAIT
OMURA Takuya
(06) Feature article
How does Civil Engineering affect our minds?
(08) Civil engineering that produces a human mind
FUJII Satoshi
(12) In the Midst of Shifting Sensory Culture:Discursive History on the Cityscape of Shutoko(Metropolitan Expressway)
WATANABE Hiroshi
(16) The effect of Higashi-Kyushu Expressway on economy and human mind of Miyazaki prefecture
MERA Mitsunori
(20) The town has been changed by the road improvement project -Introduction of Shinmon-dori St. which is front approach to Izumotaisha Grand Shrine
TATANO Mitunori
(22) Living on the waterfront in Hiroshima for co-memory
TANAKA Naoto
(24) The effect of Motorization on children's sensibility
SUZUKI Fumihiko
(26) Civil engineering seen from a site of infrastructure tourism -Civil Engineering is an intellectual entertainment-
SASAKI Tadashi
(28) Charm of Infrastructures in the eyes of maniacs -Why dam appreciation becomes popular?
HAGIWARA Masaki
(30) The beauty of everyday life to touch our heart -through the practice of community building on public transportation -
MATSUMURA Nobuhiko
(32) Infrastructure leads to building peace: participation and tsuchioto(hammering sound)for post conflict reconstruction
NISHIMIYA Noriaki
(34) Further studies to consider "How does civil engineering affect our minds?"
(36) Admiration of Civil Engineering Heritages by JSCE:Civil Engineering Heritage Sites Selection
Former Inabachi Watertower
NAKAMURA Shinichiro
(38) Letters from Tohoku
Activities on scaling resistance of concrete for Reconstruction assistance road in Iwate River and National Highway Office
KIGOSHI Yoichi
(42) Let's go Abroad !
Civil engineering circumstances in Vietnam through an ODA project. -The access road and bridge project to Lach Huyen international port in Hai Phong, Vietnam
YAMAJI Hitoshi
(44) Reliable senior engineer !
Grasp true behavior of the new style structure and create a better infrastructure
YUI yozo
(46) Report Experiment Facilities
Reproducing the border between sea and land due to detect drifting sediment -3-dimentional coastal wave facility-
NOGUCHI Kenji
(50) Civil Engineering Contents to share with your Family
Website with attractive structures
YOSHIKAWA Hiromichi
(52) My Bookshelf
MISHIMA Tetsuya
(53) JSCE Publications
(54) Trace Back Sources of Reinforced Concrete
KAMIYA Keita, HISAMATSU Akifumi, MIZUKOSHI Yuta
(56) JSCE Member's Report
Activities of one year after Kinugawa River levee collapse by the 2015 September Kanto and Tohoku Heavy Rain
YOKOSAKA Toshio, UEDA Tetsuya, NAKATA Shinichi
(60) Messages from outside
IRIKURA Kenji
(62) Advisers' Column
(64) International Activities Center
(86) JSCE Calendar
(88) Next Issues
---
≪Back Number≫