No.2 February. 2016
Latest Magazine
vol.101 No.2 February. 2016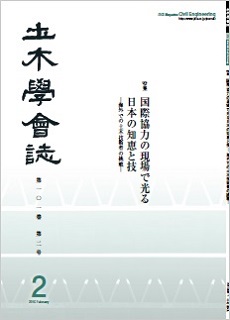 No.2 2016
Feature Articles :Japanese knowledge and technology flourishing in international cooperation activity -Overseas challenges by civil engineers- 
The Development Cooperation Charter approved by the Cabinet in February 2015 highlighted the significance of contributing toward efforts to overcome the challenges faced by international community, taking advantage of the experience that Japan obtained during the high economic growth period by overcoming various challenges, the expertise accumulated through development assistance to Asian countries, and lessons learned from reconstruction after earthquake. The Charter also emphasized the importance of mobilizing a wide range of resources including private companies and local governments.
As indicated in the Development Cooperation Charter, civil engineers in Japan are expected to meet the expectations of contributing to the world by utilizing a variety of Japan knowledge and technology in various fields and positions.
This special issue presents actual examples of how challenges in overseas projects were overcome, as well as messages to people who are willing to challenge themselves overseas from civil engineers in various fields and positions involved in international cooperation.
---
≪Index≫
(02) Message from the President
HIROSE Noriaki
(04) CIVIL ENGINEERING PORTRAIT
OMURA Takuya
(06) Feature articles
Japanese knowledge and technology flourishing in international cooperation activity -Overseas challenges by civil engineers-
(08) The President talked about international contribution by civil engineers
HIROSE Noriaki
(10) My origin is Matadi Bridge
TATSUMI Masaaki
(14) Technology transfer of land readjustment system to Thailand -As a leading case of transfer of soft infrastructure-
TANAKA Shigeoki
(16) The project for construction of Sindhuli road in Nepal - Project Implementation plan, design and construction adjusting the local conditions -
SHINKAI Hiroki
(18) What a civil engineer had thought throughout his diplomatic service
IKEDA Naota
(20) Challenges for Supporting Water Supply Sector in Cambodia
ISHII Hideo
(22) Hydropower projects developed toward resolution of chronic power shortage -Technical support and transfer as an in-house engineer in Ministry of Electric Power in Myanmar -
ASANO Makoto
(24) Technical transfer of track maintenance in Myanmar
MATSUO Nobuyuki
(26) Advantages of Japanese Technology in Geo-Spatial Information(Survey) -Advanced Project Management Techniques in Japan-
UESUGI Kohei
(28) Contribution of Japanese Civil Engineer to Hurricane Katrina Disaster Restoration Project -New Orleans Hurricane & Storm Damage Risk Reduction System Levee Improvement Project (LPV146) -
NAKAMURA Naohito
(30) Enhancement of Tsunami Resiliency in Chile
TOMITA Takashi
(32) Mosquito research project to address the issue of Dengue in the Philippines
WATANABE Kozo
(34) Civil engineering can contribute to the world in plenty of scenes
KATO Hironori, YAMAJI Hitoshi, NAKAMURA Akira
(40) References for people who hope to join international cooperation activities
(42) Admiration of Civil Engineering Heritages by JSCE:Civil Engineering Heritage Sites Selection:Amarube iron bridge -Succeed scenery as the memory of local people-
KAWASAKI Masashi
(44) Letters from Tohoku Reconstruction of Tohoku by Taiheiyo Cement Ofunato Plant and Issues for future disaster
MATSUYAMA Yuusuke, MORIYA Masahiko, SAKAMOTO Tomoya
(48) Let's go abroad ! Military Construction Projects for US Marine Relocation from Okinawa to Guam
AKI Rinkou
(50) Reliable senior engineer ! Unsung Hero in University 
KANEYUKI Keiji 
(52) Report Experiment Facilities Understand and make use of wind - Wind Tunnel -
YAMAGUCHI Atsushi
(54) Civil Engineering Contents to share with your Family Pattenrai !! -Animation Movie of HATTA Yoichi-
ITO Satoshi
(56) My Bookshelf
OTSUKI Nobuaki
(57) JSCE Publications
(58) Pleasures of CE Researches -Lessons from Young Researchers
SHIMAMOTO Keisuke
(60) JSCE Member's Report Special summer seminar about railway system and urban development of Tokyo for international students studying in Japan
HATOYAMA Kiichiro
Nam Ngiep 1 Hydropower Project in Lao PDR Packagebased infrastructure export business in an all-Japan system
TADA Takashi
(68) Messages from outside
KIKUCHI Hiroko
(70) Advisers' Column
(72) International Activity Center
(74) JSCE Update
(79) CE Careers
(83) JSCE Calendar
(86) Next Issues
---
≪Back Number≫