No.1 January. 2016
Latest Magazine
vol.101 No.1 January. 2016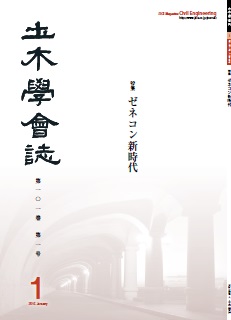 No.1 2016
Feature Articles : New Era of General Contractors
A bright light has shone on the construction market where the severe situation has continued as construction investment has decreased to half of the amount compared to the peak period. 
However, the construction industry is facing various issues, such as low profitability due to severe price competition in the mature construction market, human resources shortage due to aging of technicians and the loss of young people from the construction industry, and productivity improvement.
Instead of staying on the course in the conventional way, the construction industry has to take on some new challenges such as productivity improvement by using mechanized construction and Information and Communication Technology (ICT), introduction of new site management procedures, cross-industry collaboration, and initiatives toward coexistence with region and environment.
In order to open up a new era, it is indispensable for General Contractors to make innovations by creating new values and services that meet the various needs of individual customers.
Entitled "New Era of General Contractors", this special issue focuses on General Contractors, the main players of construction in the construction market, and introduces the various efforts general contractors are making towards the coming new era from two perspectives "changing site" and "changing market".
---
≪Index≫
(02) New Year greetings from the president
HIROSE Noriaki
(03) Editorial policy of JSCE Magazine 2016
SHIMIZU Eihan
(04) CIVIL ENGINEERING PORTRAIT
OMURA Takuya
(06) Feature articles
New Era of General Contractors
(08) Innovation of general contractor
TANIGUCHI Hiroaki
(12) Future Outlook "The new way of general contractor"-Toward the reproduction of the construction industry-
DAI Kazuhiko, TSUCHIYA Kozaburo, KAYANO Masayasu,KAKIYA Tatsuo
(18) Future Outlook "Evolution of general contractor"-Responding to the various needs-
MATSUO Masaomi, SHIMIZU Takuzo, ARAI Hideo, OBARA Koichi
(24) Development of the next-generation construction production system using autonomous construction machines -Toward the innovative improvement of safety and productivity in construction site-
MIURA Satoru
(26) A Study on the Application of Power-Assist Suit at Construction Site
UEDA Hisateru
(28) Technology development of shaft-type remote operation underwater work machine, "T-iROBO UW"
SHIMIZU Masami
(30) Challenges of Shortening Construction Period for Long-Distance Tunnel
KOJIMA Hidesato
(32) Innovation for Prestressed Concrete Bridge
NAGAMOTO Naoki
(34) Action on Construction Management for Earthquake Disaster Reconstruction Project
FUKUCHI Katsumi
(36) Efforts towards de-contracting business
OBARA Takayuki
(38) Challenge to global warming mitigation by floating offshore wind turbine
SATO Iku
(40) Effort to conservation of biodiversity and sustainable development at home and abroad
IKEDA Yutaka
(42) New agricultural business for the future -Challenge for plant factory using LEDHAGIYA kozo
(44) From Coastal to Ocean -Challenge to Ocean Industries-
CHIKAMOTO Takeshi
(46) Development on Magnet Traveling Robot for Bridge Inspection -Traveling Robot with the Sound Source Localization Device -
NAGATA Hisato
(48) Renewal of railway facility
TAKENAKA Toshio
(50) Further Studies for New Era of General Constractors
(52) Admiration of Civil Engineering Heritages by JSCE:Civil Engineering Heritage Sites Selection:Former Oyashirazu Railway Tunnel:Tunnel Construction on Oyashirazu Precipice
KAMIYAMA Rann
(54) Letters from Tohoku Disturbances of tidal flat, Zostera spp. and Eisenia bicyclis habitats by the Great East Japan Earthquake and their recovery in Miyagi Prefecture.
TAMAKI Hitoshi, MURAOKA Daisuke
(58) Let's go abroad ! Challenges in implementing Initial Project in Kenya
YAMAYA Hitoshi
(60) Reliable senior engineer ! Continue to ask questions about concrete as an expert
MIYAKE Junichi
(62) Report Experiment Facilities To Grasp the Behavior of the True Size -Centrifugal Model Experimental Device-
IGARASHI Hiromasa
(66) Civil Engineering Contents to share with your Family Picture books and DVD of renowned civil engineers
OGATA Hideki
(68) My Bookshelf
SHINKAWA Takao
(69) JSCE Publications
(70) Pleasures of CE Researches ─Lessons from Young Researchers
HORIGUCHI Toshiyuki
(72) JSCE Member's Report Preservation history and conservation works for future ages of wooden-block pavement heritages in front of the Hokkaido office main gate -Long term preservation measures of wooden-block pavement heritages for supporting ""Kita Sanjo Plaza""-
TAKEICHI Kiyoshi, KASAHARA Atsushi
(76) Messages from outside
Saiho
(78) Advisers' Column
(80) International Activity Center
(82) JSCE Update
(85) News
(87) CE Careers
(91) JSCE Calendar
(98) Next Issues
---
≪Back Number≫