Magazine Vol.98 No.4 Apr. 2013
Latest Magazine
vol.98 No.4 Apr. 2013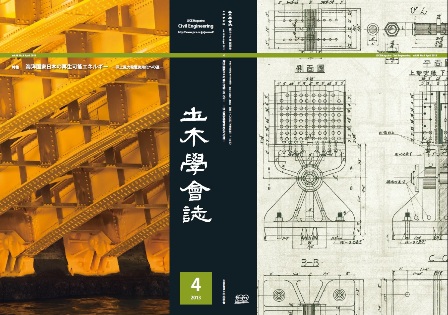 No.4 2013
Feature Articles :Feature articles:Marine national Japan's Renewable Energy- Practical applications of offshore wind power generation
The energy portfolio of Japan is heavily depending on imported fossil fuels including LNG, oil and coal. Share of these fossil energy sources leach to 95%. Self-sufficiency rate of energy of Japan is 4.8% including 1.4% of renewable energy in the year of 2010.
Japan is surrounded by sea and we are the 6th largest country in the world in terms of sea surface area. Energy production at sea by wind, wave, and tide has great potential for the improvement of self-sufficiency rate.
Because of reason above, energy production at sea is demanded by the society, however, this attempt is a novel challenge for energy-related industries.
This feature article provides vision for civil engineers from the viewpoint of various fields including finance, planning, environmental assessment, planning and construction. Role and responsibility of civil engineering in the renewable energy industry will be proposed.
---
≪Index≫
(02) Message from the President
ONO Takehiko
(04) Admiration of Civil Engineering Heritages by JSCE:Civil Engineering Heritage Sites
Selection:Komazawa pumping station (water tower・pump house) / Locally cherished landmark
ONO Yoshihiko
(06) Feature articles:Marine national Japan's Renewable Energy- Practical applications of offshore wind power generation
(08) The situation and future of Japan's Renewable Energy
ARAI Jiro
(12) Current Situation of Wind Power - Wind Farms Built by Civil Engineers -
ISHIHARA Takeshi
(18) Let's run wind turbines - From Wind Power Kasumi to the new mega-energy site -
KOMATSUZAKI Mamoru
(20) Field of civil engineers in the wind power development
ICHIDA Minoru
(22) From the experience of global business on wind power business - Leadership by a trading company -
FUKUDA Tomofumi
(24) Efforts of Research and Development of Offshore Wind Power Generation Technology Project inChoshi, Chiba Prefecture
HASHIMOTO Michio
(26) Efforts toward smooth introduction of offshore wind power into ports and harbours
TAKAHASHI Gakuta
(28) Environmental impact assessment of ocean wind energy generation facility - Toward the harmonization of fishery and energy generation
KITAZAWA Daisuke
(30) Potential of renewable energy and role of offshore energy production
KISUGI Shin, MIHOYA Akira, MURAKAMI Keisuke, SASAKI Hiroshi
(34) Further Study
(36) Working abroad:To Young Engineers who aspire to the Overseas Project
SATO Hideki
(38) My life as Civil Engineer:Vol.4 The asset management of the bridge in Osaka city, Japan(Careers and Professional Minds) ,Unveiling features of maintenance of a bridge
AIZAWA Takatoshi, MIYAKE Shota
(40) Committee report JSCE Wood Engineering Committee
NUMATA Atsunori
(44) Studying Abroad The experience at MBA Studying Abroad at USA MBA students who does "acting immediately if you notice bottle neck"
OI Ryuhei
(45) Book review
(46) Reviewing February issue
(48) Letters from Tohoku Learning from Real Voices
MATSUDA Yoko
(50) Adviser's column
(52) JSCE Advisory Council The 3rd Meeting Report
(57) Pick-and-Choose Updates
(63) JSCE Updates
(71) CE Careers
(72) New books
(74) New Paper on J-STAGE
(76) JSCE Calendar
(79) Opinions
(80) This Issue's Contributors
(80) Next Issue
 
---
≪Back Number≫