Vol.99 No.10 Oct.2014
Latest Magazine
vol.99 No.10 Oct. 2014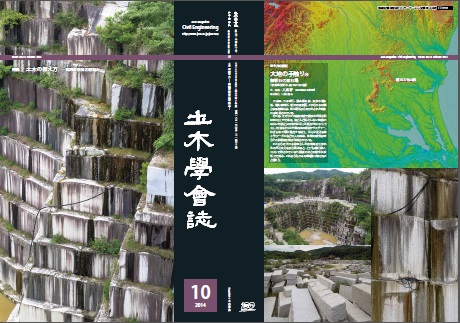 No.10 2014
Feature Articles : New Approach to Teach Civil Engineering -Efforts of Practice-Based Learning-
The necessary skills that are generally required of civil engineers are,
(1)Communication skills, leadership skills and a wide range of expertise to integrate technicians in various disciplines.
(2)Problem finding, analyzing and solving ability to advance projects based on the comprehensive analysis of problems with various elements intricately interrelated.
(3)International way of thinking to play an active role on the world stage in a globalized society.
Higher education institutes for civil engineering such as universities and professional colleges are making efforts continuously with an aim to develop human resources with the above abilities. In addition to conducting traditional passive learning based education through lecturing for acquiring solid knowledge of basic specialized subjects, in recent years, an increasing number of institutions have begun to provide opportunities to improve above abilities by increasing the share of "Practice Based Learning" in the curriculum. This special issue introduces specific examples of these efforts and their effects to educators who have actively adopted Practice Based Learning.
---
≪Index≫
(02) Message from the President
ISOBE Masahiko
(04)Admiration of Civil Engineering Heritages by JSCE:Civil Engineering Heritage Sites Selection:Okawara Hydroelectric Power Plant, Okawara Dam-Power plants and related facilities making a wish for the wealth-
YAMAGUCHI Keita
(06) Feature articles:New Approach to Teach Civil Engineering -Efforts of Practice-Based Learning-
(08) What is Practice-Based Learning ?
(10) Practice-Based-Learning by International Program in University Education
KANIE Shunji
(14) Human Resource Education in KOSEN
KAMON Masashi
(16)Environmental education in Sapporo Moiwa High-School -Water quality survey of TOYOHIRA river basin-
SAKANIWA Yasunori
(18) "Cultivation of excellent civil engineer" in the Department of Civil Engineering, Tsinghua University
SU Di
(20)Education and Practical Training for Civil Engineering Students in USA
NAKATA Narutoshi
(22)Human Resource Development with the Aim of Quality Improvement by Social Contribution in Remote Island National Institute of Technology
MATSUSHIMA Isao, MIZUI Shinji, NAGAIWA Kenichiro
(24)Cultivating Tomorrow's Engineers in Developing Countries─Experiences at JKUAT(Kenya)
SUGIURA Kunitomo
(28) What is required for the worldwide business
ISHIZAKI Shinichiro
(30) Practice Based Learning and My Career -from the Field of International Cooperation-
MIYAGAWA Masahito
(32) The worth of an internship in a course of study
HISADOMI Fumiaki
(34) Spiral of practical education
KOBAYASHI Ichiro
(36) Future Studies for Practice-Based Learning
(38) JSCE Magazine -A Retrospective Look Over the Past 99 Issues Review of a series of articles"JSCE Magazine -A Retrospective Look Over the Past 99 Issues"
(42) Letters from Tohoku Tohoku University's Actions for Recovery and Reconstruction from the Great East Japan Earthquake
SAKAMAKI Takashi, MANO Akira
(46)Working Abroad Practices and Perspectives of Geospatial Technology for International Development in Asia
MIYAZAKI Hiroyuki
(48) Learning Lessons of Civil Engineering from Great Professors
ASAKURA Moeko、IIJIMA Rei
(52) Committee Report:Committee on Historical Studies in Civil Engineering
ITOH Kousuke
(56) Planning Committee
NAKAMURA Hikaru
(60) Studying Abroad Studying in Germany - No border on research exchange -
YAEGASHI Sakiko
(61) Book review
(62) Reviewing August issue
(64) Advisers' Column
(66) International Activities Center
(67) JSCE Updates
(71) CE Careers
(77) JSCE Calendar
(80) Next Issues
 
---
≪Back Number≫