Magazine Vol.99 No.4 Apr.2014
Latest Magazine
vol.99 No.4 Apr. 2014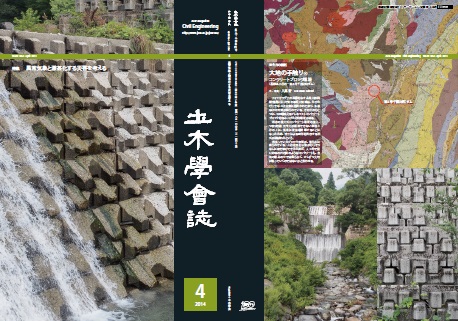 No.4 2014
Feature Articles : Discussion on extreme weather events and growing mega-disasters
This special issue focuses on intensifying extreme weather events with low frequency of occurrence, provides basic knowledge of extreme weather events, and presents voices from affected areas suffering from disasters that happened one after another. This issue also introduces "Facing growing mega-disasters, how should civil engineers plan to take actions in cooperation with experts in related fields". In particular, focusing on the contents of the Fifth Assessment Report issued by the Intergovernmental Panel on Climate Change (IPCC) in September 2013, which provides an important perspective to climate change in the future, the intent of this special issue is to gain understanding and cooperation from readers in preparing for disaster prevention and taking necessary countermeasures against disasters, resulting from extreme weather events and climate change.
Recognizing that "Weather is a random phenomenon", it is necessary for us civil engineers to understand low-frequency extreme weather events more accurately, convey the information quickly and precisely, and take serious actions. In order to take appropriate actions to prevent catastrophic damage from recurring disasters, it is required that safety of society should be enhanced through both "hard" and "soft" countermeasures, and social consensus toward disaster prevention in the region should be built. Overcoming the challenges featured in this special issue will be an important mission in the 21st century for civil engineers, who play an indispensable role in disaster mitigation and disaster prevention, and it is our intention to share such topics to readers.
---
≪Index≫
(02) Message from the President
HASHIMOTO Koutaro
(04) Admiration of Civil Engineering Heritages by JSCE:Civil Engineering Heritage Sites Selection:Hamanakatsu bridge, existing road bridge converted from the first wrought iron warren pony truss railway bridge in Japan
YOSHIDA Nagahiro
(06) Feature articles Discussion on extreme weather events and growing mega-disasters
(10) The excess flood of the Yabe River caused by the northern Kyushu heavy rain in July, 2012 which inundated one-third of Yanagawa-City
KANEKO Kenji
(12) Lessons learned from two flood occurred in Sanjo-city, Niigata prefecture
KUNISADA Isao
(14) Extreme events appeared in future climate projection
TAKAYABU Izuru
(16) The ocean is the mother of abnormal weather
DOI Takeshi
(18) Development of adaptation plan and policies in Japan
TSUJIHARA Hiroshi
(20) Discussion on how to plan policies for climate-change adaptation on the basis of the understanding of river characteristics ─ Case study on impact analysis and adaptation for flood control─
FUKAMI Kazuhiko
(22) Promotion of Climate Change Adaptation to Cope with Water-related Disasters due to Global Warming
WATANABE Yasunari
(24) Flood Defense of Tokyo Metro
KOGURE Toshiaki
(26) Advanced Hydroelectric Dam Operations in Terms of the Reductions of Dam Flood Discharge
KAJI Keisuke
(28) Development of the disaster prevention equipment to mighty high tide ─Development of the flap type gate─
NAKAYASU Kyoichi, MIZUTANI Seiji, SASAKI Kouki
(30) Disaster Lessons of Hurricane Sandy in the USA
KAWATA Yoshiaki
(32) New national land planning against serious disasters ─ from lesson to innovation─
TAKAHASI Yutaka
(34) What we can do, and should do, to prepare for extreme weather events
KIMOTO Masahide, MIMURA Nobuo, MOTOMURA Yukiko, TAKEMURA Kotaro
(40) Further Study for extreme weather events and disasters
(42) JSCE Magazine -A Retrospective Look Over the Past 99 Issues The wave of development, the pollution and the Environmental issues
HASHIMOTO Masako
(46) Letters from Tohoku
What I'm considering on affected area caused by the Great East Japan Tsunami and Explosion of the Fukushima Nuclear Power Plant
ODA Hideaki
(50) Industrial and Logistics Reconstruction of Tohoku Region through Ports' Rehabilitation
TAMURA Mayumi, OKUBO Kaori, UCHIKOBA Naomi
(52) Working Abroad "Formulation of Urban Development Master Plan of Greater Yangon and Possible Application of Japanese Urban Planning Knowhow Overseas"
YAMADA Koji
(54) Learns from Civil Engineers who endeavors in Reconstruction
(58) Committee Report Ethics committee
MINAGAWA Masaru
(62) Studying Abroad Studying in Swedish Universities as a research engineer
TSUJI Masakuni
(63) Book review
(64) JSCE Member's Report Implementation of Human Resources Development in"Saisei-Juku"
DOI Tsutomu
(66) Reviewing February issue
(68) JSCE Advisory Council The 5th Meeting Report
(75) International Activities Center
(76) Advisers' Column
(78) JSCE Updates
(83) News
(84) CE Careers
(88) JSCE Calendar
(92) Next Issues
---
≪Back Number≫