International Activities Center
"Vigorous Efforts Toward Steady Growth and Development Together with International Partoners"
The progress of globalization makes boundaries fade away and intensifies worldwide competitions in the construction industry, and then forces civil engineers to further contribute to improving global quality of life and creating a sustainable society.
JSCE formed International Activities Center (IAC) in 2012 so as to respond effectively to those challenges. The IAC stands at the forefront of JSCE's efforts to improve the partnership with Agreement of Cooperation (AOC) societies, bi- and multi-lateral activities and contribution to infrastructure development. The Society and IAC work in tandem toward attaining the aforementioned goals.
Objectives
1) To promote exchange of ideas, knowledge and experience for civil engineering progress
2) To enhance JSCE's international contribution and cooperation through civil engineering
3) To support the internationalization of Japanese civil engineering industry
Organization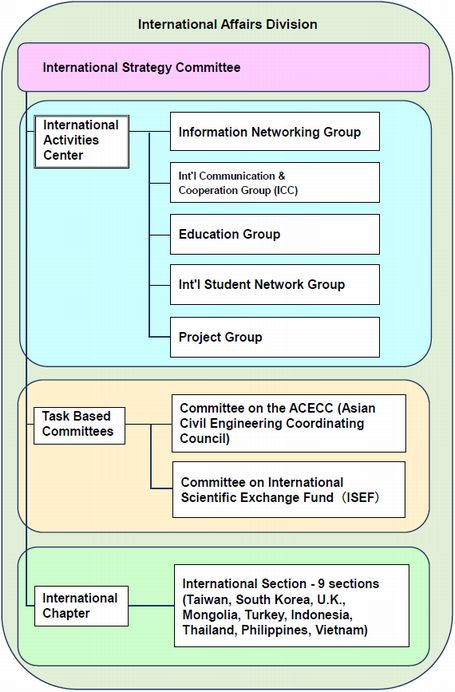 International Activities
JSCE Annual Meeting - International Program
JSCE Annual Meeting is one of major gatherings of civil engineers in Japan. The annual meeting, which is usually held in early September, draws over 5,000 attendees across the country and abroad, and over 3,000 research papers and posters are presented.
International Program includes Roundtable Meeting, joint symposiums and international sessions. Its aims are to foster information exchange, international cooperative research and network-building.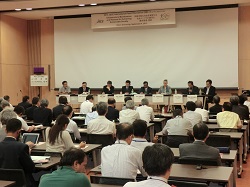 2013 JSCE Annual Meeting International Panel Disscution
International Summer Symposium
International Summer Symposium brings together young civil engineers from over 20 countries every year. It is an excellent opportunity for young civil engineers to discuss their research projects, to acquire new perspectives and to network with their peers. Over 100 papers are presented annually.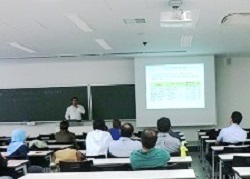 2013 JSCE International Summer Symposiumu
Joint Seminars
JSCE signs Agreement of Cooperation (AOC) with civil engineering societies around the world. Under the AOC, the JSCE and its AOC societies exchange technical and scientific information, organize joint projects and work together to solve global issues.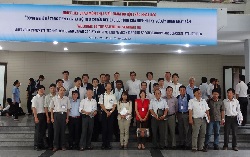 JSCE-VCA Joint Seminar in Hanoi in 2013
Study Tour Grant
Study Tour Grant (STG) is the grant travel program supported by International Scientific Exchange Fund (ISEF). The STG program invites civil engineering students to Japan for one week. The young engineers, who are nominated by the AOC societies, learn latest technologies through lectures provided, visiting construction project sites and infrastructure operations, and discussions with Japanese civil engineering experts.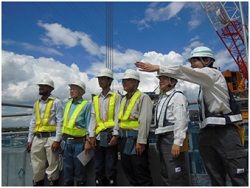 2013 JSCE STG Recipients