2014 Innovative Technique Award
1. Development of Non-open Cut Method without Temporary Shoring Member
- Arch-shaped Pipe-roof Method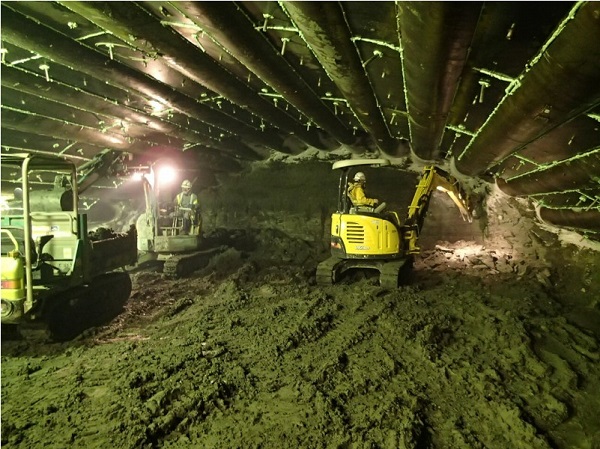 ・Hirokazu Sakurai, Masahiro Ishibashi (Metropolitan Expressway Co.,Ltd)
・Masayoshi Nakagawa, Keiji Mimuro, Daisuke Morita (Kajima Co.)
In building an underground structure by non-open cut method, a steel pipe-roof supported by shoring member is often applied conventionally. Its narrow working space causes a reduction of working efficiency and an extension of construction period, and the member buried in the structure causes quality deterioration.
 To solve the problem, Arch-shaped pipe-roof method has been developed and applied to the actual operation.
 By composing an arch structure, setting linear pipe-roof along an arch line and filling the pipes and the joints with mortar, no shoring is required and the working efficiency can be improved. As a result, it contributes not only to shortening construction period but also to improving safety and quality without the piles that pierce the structure.
2. Development of a concrete repair method (Smooth Board Method),
using high-toughness cement boards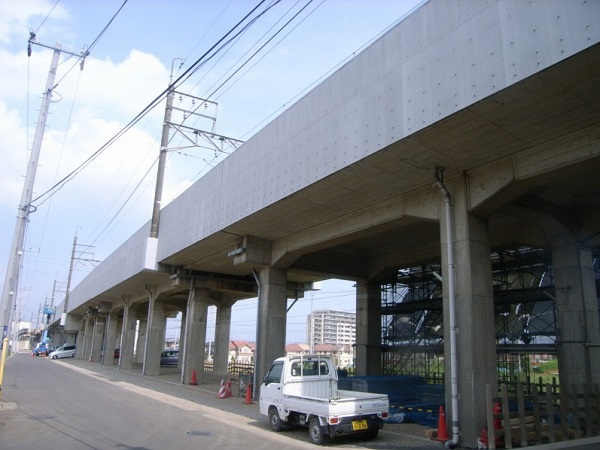 ・Masao Fukui,Toshio Nomura
・Tomohiro Hayakawa
・Yukihiro Tanimura
・Yoshinori Hitomi
The Smooth Board Method consists of the following steps. (Step1) Remove deteriorated concrete. (Step2) Install high-toughness cement boards over areas where deteriorated concrete is removed. (Step 3) Fill gaps between the cement boards and good concrete exposed with cement grout. The cement board can provide additional surface protection and high bonding strength with cement grout. The cement board is thin and light and can be installed manually. This makes it possible that road ways in tunnels can be repaired without traffic closures and parapets of rail ways can be repaired in short intervals of train passages. The cement board's applicability as a reinforcing structural member owing to its high strength has been verified in a mock-up test and being utilized in a construction project of elevated parapets for a railway.
3. Development of innovative highly effective cement grouting system under high water pressure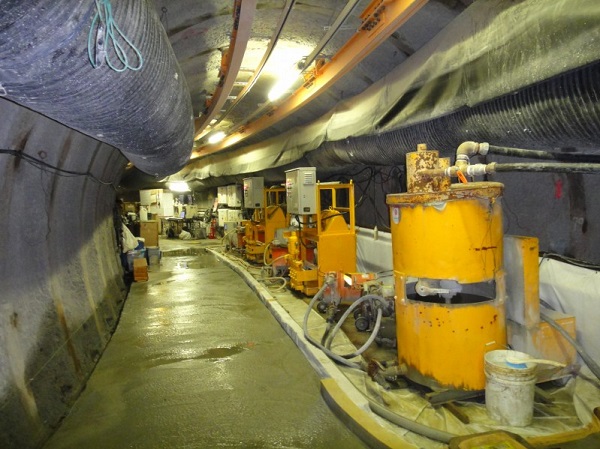 ・Shindo Akihisa (Taisei Corp.)
・Motoshima Takayuki (Taisei Corp.)
・Ijiri Yuji (Taisei Corp.)
・Abe Akimasa (Hatano Chousa-sekkei)
The developed grouting technology consists of several hardware technologies including a recirculating double tube packer for avoiding the sedimentation of cement particle in a tube at a low injection rate and a few software technologies including an automatic injection control system. The system accomplishes the economical production of grout mix and the inheritance of skills and know-how from technicians as well. This technology is to be valid for dams and tunnels as well as structures under high water pressure environment at depth such as the Chuo Shinkansen and a geological disposal repository of high-level nuclear waste.
4. Development of Durability Enhancement Technique of Concrete by Continuous Drain-Moist Curing(W-Curing)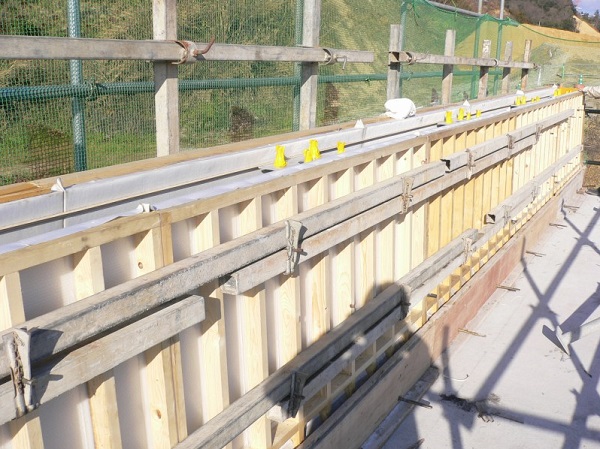 ・Tatsuya Usui(Taisei Corp.)
・Shigeyoshi Miyahara(Taisei Corp.)
・Jun Sakamoto(Taisei Corp.)
・Tsuyoshi Maruya(Taisei Corp.)
・Toshiharu Kishi(Institute of Industrial Science, the University of Tokyo)
While the maintenance cost of infrastructure is expected to expand rapidly hereafter, it is demanded that concrete with superior quality is used and the maintenance cost will be reduced in the future.
With an aim of establishing the technique to densify the pore structure of concrete surface and enhance the durability of concrete by curing, a method of continuously draining excess water after placing and supplying water immediately after setting using a same water permeable formwork developed newly without demolding was developed.
The proposed technique is expected to be applicable to a wider variety of structures reducing the maintenance cost.
5. Development of HIVIDAS ( Hybrid ( Infrared / Visible Image ) Inspection & Diagnostic Analysis System)
・Masafumi Kubo (Shimizu Corporation)
・Toshiya Maeda (Shimizu Corporation)
・Isao Amano ((Hozen Maintenance & Management Engineering Co., Ltd.)
・Satoko Nakayama (Hozen Maintenance & Management Engineering Co., Ltd.)
・Takahusa Hutamura (Kurabo Industries Ltd.)
HIVIDAS is a concrete inspection and diagnostic analysis system with infrared and visible images which can detect cracks and void effectively as well as other deterioration on concrete surfaces. With its compact and light-weight features, HIVIDAS is considered a highly portable filming device with versatile applications to be used in various testing environments.
Compared to th the conventional inspection methods such as visual and hammering, HIVIDAS introduces the safer, more precise and more objective diagnostic method.
Corresponding to the decrease in the working population, HIVIDAS could become an effective, high-precision inspection / diagnostic technology contributing to the society.