2013 Innovative Technique Award
1.Development of laser-based non-destructive inspection system for concrete defects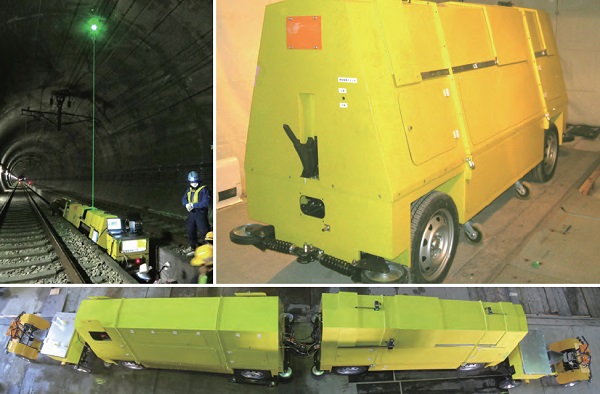 ・Norikazu Misaki(West Japan Railway Company)
・Yoshinori Shimada(Institute for Laser Technology)
・Oleg Kotyaev(Institute for Laser Technology)
・Masahiro Shinoda(Railway Technical Research Institute)
・Shigeo Emoto(Unilock Co., Ltd)
Development of the inspection technique of the concrete structure which replaces a hammering test is an urgent subject.  The laser-based non-destructive inspection technique is a one of the desirable approaches.  This technology carries out the irradiation of the impact laser which gives a shock wave to concrete, and vibrates concrete surface.  Since the mode of vibration changes with existence of a defect, it evaluates the soundness of concrete from remoteness by laser metrology for detection of the mode of vibration.  Furthermore, the inspection experiment of the real defect was conducted in the Shin-kansen tunnel, and it was proved that it was the technology which can be used for inspection employment.  This technology should be indispensable to future maintenance management.
2.Development of seismic retrofitting method using only reinforcing bars and small members (RB method)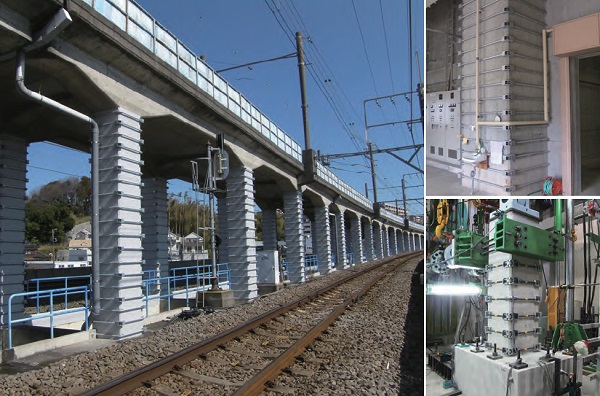 ・Masashi Kobayashi(East Japan Railway Company)
・Takeshi Tsuyoshi(East Japan Railway Company)
・Tadayoshi Ishibashi(JR East Consultants Company)
・Fumio Sasaki(Tokyo Tekko Doboku Co., Ltd.)
・Fukuma Iihoshi(Neturen Co., Ltd.)
Seismic retrofitting of existing RC columns has been carried out. Steel plate jacketing method is commonly adopted, but this method cannot be applied in case of the space under the viaduct is used as shops and offices. RB method was developed to enhance shear strength and ductility by external lateral reinforcing bars anchored with supporting members arranged at each corner of RC viaduct columns. This method can minimize the need to remove the obstacles such as partition walls by use of bars as reinforcement. Moreover, all of the reinforcement work can be done by hand work due to light weight members. This method greatly contributed to improve the safety of railway rapidly.
3.Development of Closed Type Rectangular Shield Method
(Paddle Shield Method)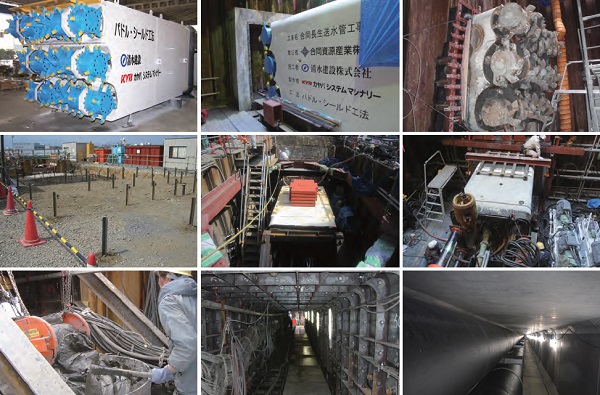 ・Kiyoto Kanemaru(Shimizu Co.,Ltd.)
・Takehiko Nakaya(Shimizu Co.,Ltd.)
・Kentaro Shirai(Shimizu Co.,Ltd.)
・Hiroyuki Odaka(Kayaba System Machinery Co.,Ltd.)
・Yuji Saito(Godo Shigen Sangyo Co.,Ltd.)
Recently, there has been a rising need for Closed Type Rectangular Shield Method for effective use of tunnel section, and for dealing with construction works in urban areas with low over-burden or complicated underground. Unlike conventional shield machine, simple cutters are arranged horizontally on axis to completely excavate soil in the cross section. In addition, by using independent paddle screw for mixing excavated soil and sliding to upper cutters, the ground is stabilized and surface deformation minimized even with low over burden. This technology is expected to be used to construct various types of structure like underpass, underground mall, etc.
4.Development of the "Steel Pipe Integrated Pier with Shear Link" to Improve the Structural Performance and Reduce the Life-Cycle-Cost.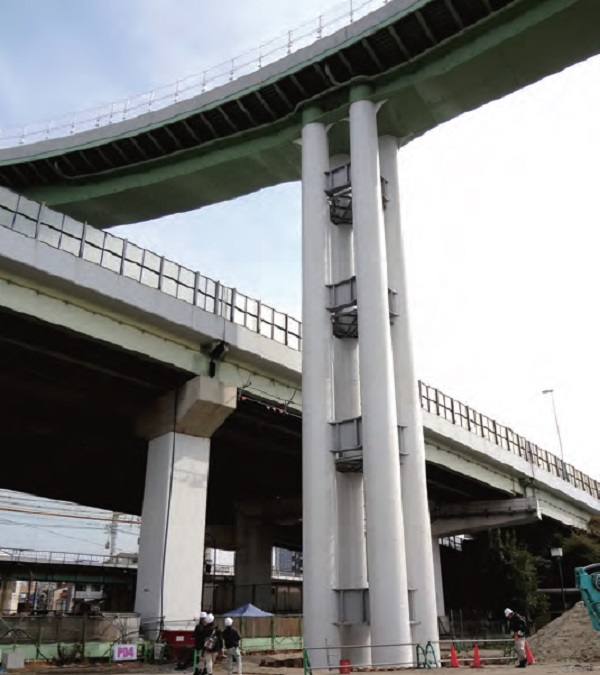 ・Hidesada Kanaji(Hanshin Expressway Co.,Ltd.)
・Takashi Kosaka(Hanshin Expressway Co.,Ltd.)
・Masatsugu Shinohara(Hanshin Expressway Co.,Ltd.)
・Kunitomo Sugiura(Kyoto University)
・Tetsuya Nonaka(Seismic Analysis Research Inc.)
Steel pipe integrated pier, which was proposed in 2002 and constructed in the Ebie Junction in 2013 as the first attempt in the field, is composed of multi steel pipes interconnected with shear links. Steel pipes support vertical load, such as dead load and live load, while shear links resist horizontal load such as seismic load.
Damage control design concept is applied in this pier; Steel pipes should be elastic, while shear links should be allowed to be elasto-plastic damage to absorb energy during huge earthquake.
This innovative pier succeeds in improvement of the structural performance and reduction of the life-cycle-cost.
5.Low-frequency Blasting Sound Reducer for Tunnel Construction.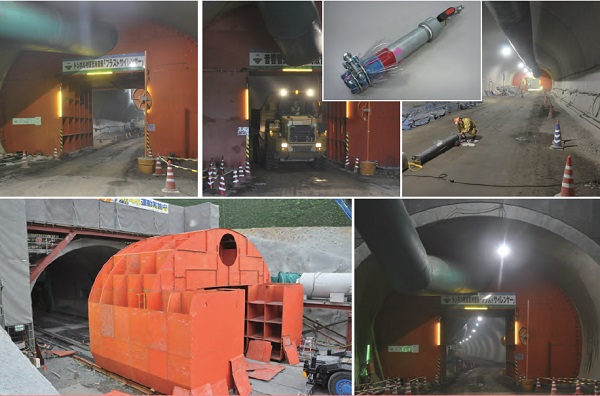 ・Yasuhiro Honda (Obayashi Corporation)
・Mitsutoshi Watanabe (Obayashi Corporation)
・Hideo Kinashi (Obayashi Corporation)
・Toru Matsuno (Obayashi Corporation)
・Koshi Arakawa (Obayashi Corporation)
Low-frequency sound of tunnel digging with blast may make a shaking noise with windows and doors. It is necessary to pay attention to the surrounding environment in a term of tunnel digging with blast.
Many kinds of measures have been used to shut the noise in a tunnel like a sound proof door with heavy concrete; however, they didn't effective measures because they couldn't reduce low-frequency noise so many. We developed a low-frequency blasting sound reducer for a tunnel (LBSR), which applies the resonance of a sound tube and reduces low-frequency sound 15dB and more. The LBSR is an innovative technology that contributes to be effective measures for sound environment around tunnel construction sites.