JSCE Magazine Summary & Index
Latest Magazine
vol.103 No.11 November 2018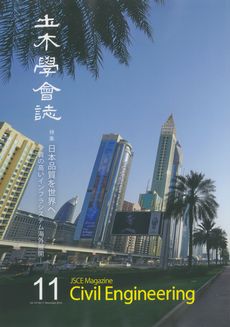 Taking Japanese quality abroad ─Overseas development of high-quality infrastructure systems─
To capture the growing global demand for infrastructure, Japanese companies must endeavor to export high-quality infrastructure systems that take into consideration impacts on the environment and society as well as contributions to local communities. Companies must promote infrastructure systems whose lifecycle costs—including operation and maintenance—are low and whose focus is on safety and resilience against natural disasters.
The focus of this special feature is on high-quality infrastructure systems. In the first half, articles introduce policies and case studies in order to examine what constitutes a high-quality infrastructure system. The second half is composed of articles that use roundtable discussions and commentary from experts to explore what Japan should do in the future to further expand infrastructure system exports.
We hope this special feature will nudge those currently engaged in overseas projects or looking to go abroad into rediscovering Japan's strengths in overseas deployment of infrastructure systems.
---
≪Index≫
(02) Natural Disasters and Their Damages
July 2018 West Japan Disaster Bought by Torrential Rain :
Brief Report by the JSCE Presidential Mission
KOBAYASHI Kiyoshi, SHIMIZU Norikazu
(06) Feature article
Taking Japanese quality abroad ─Overseas development of high-quality infrastructure systems─
(08) Quality Infrastructure Promotion ─MLIT's Initiative for Overseas Expansion of Infrastructure Systems ─
TANAKA Yasuhiro
(12) JBIC's supports for Overseas Infrastructure Business Development and Global Trend of Infrastructure Finance
SHIMAMOTO Ken
(14) Regional cooperation of a snow removal activities ─From snow removal to regional development in Shinto village─
ONOZEKI Yoshimi
(16) Export of Hydropower Infrastructure ─Nam Ngiep 1 Hydropower Project with resettlement of ethnic minority Hmong in Lao PDR─
TSUTSUI Shoji
(18) International Support of the railway management capability in Hanoi and Ho Chi Minh
SAKUMA Minoru
(20) Application of Infrastructure Inspection Technology in the United States ─Exporting the Japanese high-quality Infrastructure Technology─
MATSUMOTO Masato
(22) Challenging the disaster prevention business with the policy 'Investment before disaster will save your community and economy'
DOI Akira
(24) Developing Global Leaders for Infrastructure Overseas Export
UEDA Tamon, KATO Hiromitsu, KANAI Haruhiko, GODO Hitomi, HASHIBA Katsuji
(30) AECOM's strategy for its global business development and as a reference for Japanese companies. ─As a reference for Japanese firms considering overseas operations─
SAKAEDA Hideki
(32) What kind of scheme shall we need to consider for expanding infrastructure business in the world ?
KUSAYANAGI Shunji
(36) Further information of Japan's quality infrastructure overseas development
(38) Admiration of Civil Engineering Heritages by JSCE:Civil Engineering Heritage Sites Section
Lattice Girders ─Hidden legacy in Tajima, Hyogo Prefecture ─
NAKAYAMA Taishi
(40) Let's go abroad
The Project for Construction of Bridges on the Road between Ile and Cuamba ─Engaging in Construction of Bridge Project in the Republic of Mozambique─
WAKAMATSU Takayuki
(42) Alumni of DOBOKU ─The pages for people linked to Japan─
Life in Japan;A transition experience from college to career
KAWIN Saiprasertkit
(44) Report Experiment Facilities
E-Defense:Three-dimensional full-scale earthquake testing facility for large-earthquake disaster simulation
TABATA Kentaro
(46) Numerical Analysis Seminar for Civil Engineer without a mathematical formula
Recent progress in ocean models and their applications to marine environmental problems
UCHIYAMA Yusuke
(48) Let's try to learn great civil engineers
Masayoshi Kabashima; the pioneer of Japanese professional bridge designer
NAKAI Yu
(50) My Bookshelf
OKABE Masami
(51) The movement of my heart
SANADA Junko
(52) Focus on the infrastractural components in the civil engineering
(54) JSCE Member's Report
Old and new trial by Kansai Branch ─Support for students about overseas activities─
MATSUSHIMA Kakuya
(56) Messages from outside
OHYAMA Ken
(58) Advisers' Column
(60) International Activities Center
(62) JSCE Updates
(71) CE Careers
(73) JSCE Calendar
(76) Next Issues
 
---
≪Back Number≫