2008 Innovative Technique Award
1.Development of "Chart Type Seismic Performance Evaluation System  of Coast Structure" for Various Types of Structures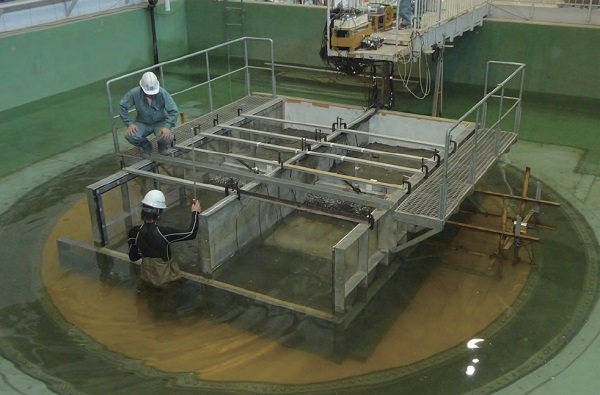 ・Mitsunari HIRASAWA (Kinki Regional Development Bureau,Ministry of Land, Infrastructure, Transport and Tourism)
・Susumu IAI (Disaster Prevention Research Institute, Kyoto University)
・Koji ICHII(Hiroshima University)
・Takahiro SUGANO(Port and Airport Research Institute)
・Shuuji YAMAMOTO(Costal Development Institute of Technology)
Chart type seismic performance evaluation system is a system to estimate earthquake induced deformation of coastal structures easily and promptly. This system covers various types of structures including caisson type seawalls and sheet pile type seawalls.
Screening and detecting weak facilities against future earthquakes and tsunami inundations are performed easily with this system. Therefore, seismic performance evaluation can be done in a short period of time at a minimum cost.
This system will offer a rational protection scheme against future earthquakes and tsunamis, and ensure a safe and peaceful life for the people.
2.Development of a High-Speed Cleaning Device with Cavitation Jet Technology for Tunnel Lightening Facilities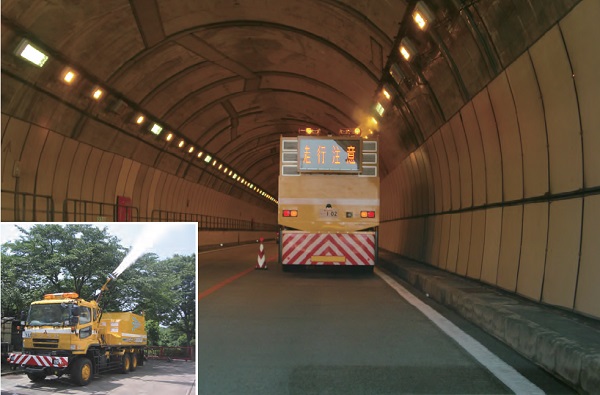 ・Masahiro YOSHIMURA (Nippon Expressway Research Institute Company Ltd.)              
・Hiroyuki TOKIEDA (Nippon Expressway Research Institute Company Ltd.)
High-speed cleaning device using cavitation jet technology is capable of cleaning lightening facilities in tunnels at 50 km/h.
 Because the speed of conventional cleaning devices is 1 or 2 km/h, traffic controls and lane closures are needed, which can cause traffic jams and accidents. This new cleaning device doesn't require those traffic managements or related dangerous works. In addition, it can reduce the costs of the traffic managements and cleaning of lightening facilities.
3.Development of Laterally Navigated Sheet Wall Method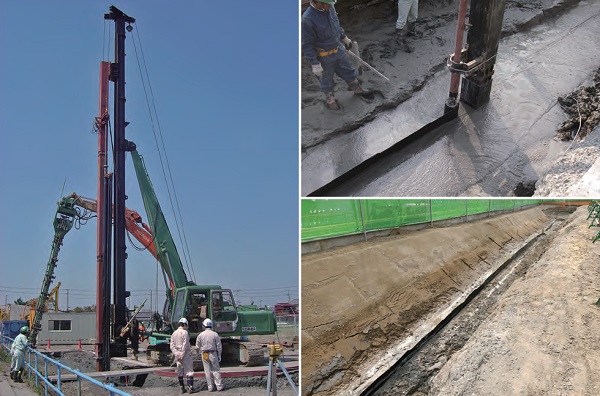 ・Katsuhiko YOKOYAMA (SHIMIZU Corp.)
・Maho NISHIOKA (SHIMIZU Corp.)
・Masaya KAWATA (SHIMIZU Corp.)
・Hirokuni ITO (Kato Construction Co., Ltd.)
・Takayuki MASUO (Taiyo Industrial Co., Ltd.)
Laterally Navigated Sheet Wall Method is a method to construct seepage control walls by lateral disentanglement and expansion of rolled sheets in the ground.
Maximum 30 m-extension length of sheet at a time can drastically reduce the number of joints of individual sheets to 1/10 or less compared with the conventional method of vertical installation of sheets with small width. As a result, the period and cost of construction to be done by the conventional method can be reduced up to 40 % and 25 % respectively by this new method. Moreover imperviousness can be remarkably improved.
The developed method has been used in projects currently and its validity has been confirmed in several aspects.
4.Development of Concrete Roadbed for Slab Track Corresponding to Earth
Structure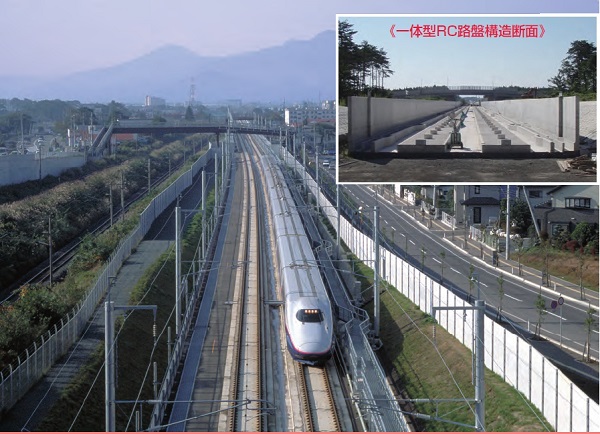 ・Osamu MARUYAMA (Japan Railway Construction Transport and Technology Agency)
・Toyoji YONEZAWA(Japan Railway Construction Transport and Technology Agency)
・Etsuo SEKINE (Railway Technical Research Institute)
・Yoshitsugu MOMOYA (Railway Technical Research Institute)
・Hifumi AOKI  (Railway Engineering Co., Ltd.)
Up to now, slab track has not been applicable on the soil structure of railways such as Shinkansen due to residual settlement.
We have developed the new technology of soil structure which controls settlement less than 10 mm and proposed the world's first quantitative "combined specification" for this technology.
The new technology has made it possible to apply slab track on the entire railways including the earth structure and achieved high durability, safety, and maintenance free.