Joint Symposium on "Construction Management Systems and Planning/Design of High-Rise Concrete Buildings"
(w/ MACE and The Construction Management Committee, June 8, 2007)
Japan Society of Civil Engineers (JSCE) and Mongolian Association of Civil Engineers (MACE) Joint Symposium on "Construction Management Systems and Planning/Design of High-rise Concrete Buildings" was held in Ulaanbaatar, Mongolia in conjunction with the 5th General Assembly of MACE on 8 June 2007.
JSCE had proposed and extended support through the international scientific exchange fund to organize the symposium in order to exchange academic, research and practical resources on construction management and planning/design of concrete structures including high-rise buildings accumulated in Japan and outside world. The Kochi University of Technology, Japan and Mongolian University of Science and Technology- School of Civil Engineering had cooperated to organize the symposium.
Dr. Ganzorig Erdene, president of MACE had formally opened the symposium and Dr. Ishii Yumio, president of JSCE had delivered the opening remarks.
There were 8 presentations including 2 presentations from Mongolian participants. The 7 presentations were included in the Symposium Proceedings. More than 200 participants including participants from Japan and Taiwan had participated in the symposium. There was a very active participation in the discussion period.
The MACE as well as participants realized that the symposium was successful in exchanging the experience and resources on the said topics, and was willing to organize such symposium in the future also.
Finally, we would like to express our sincere gratitude to Dr. Ganzorig, Mr. Gantumur and the other MACE staffs/members and MUST faculties for their kind cooperation in organizing the symposium.
Reported by:
Prof. Shunji Kusayanagi and Rajendra Niraula
Kochi University of Technology

Left:Dr. Ishii Yumio, President JSCE (in the middle) delivering opening remarks
Center:Prof. Kusayanagi delivering lecture on Contract administration
Right:Some participants during presentation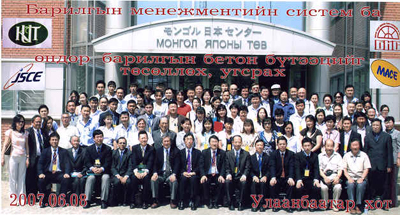 A group photo captures some of the participants during the symposium